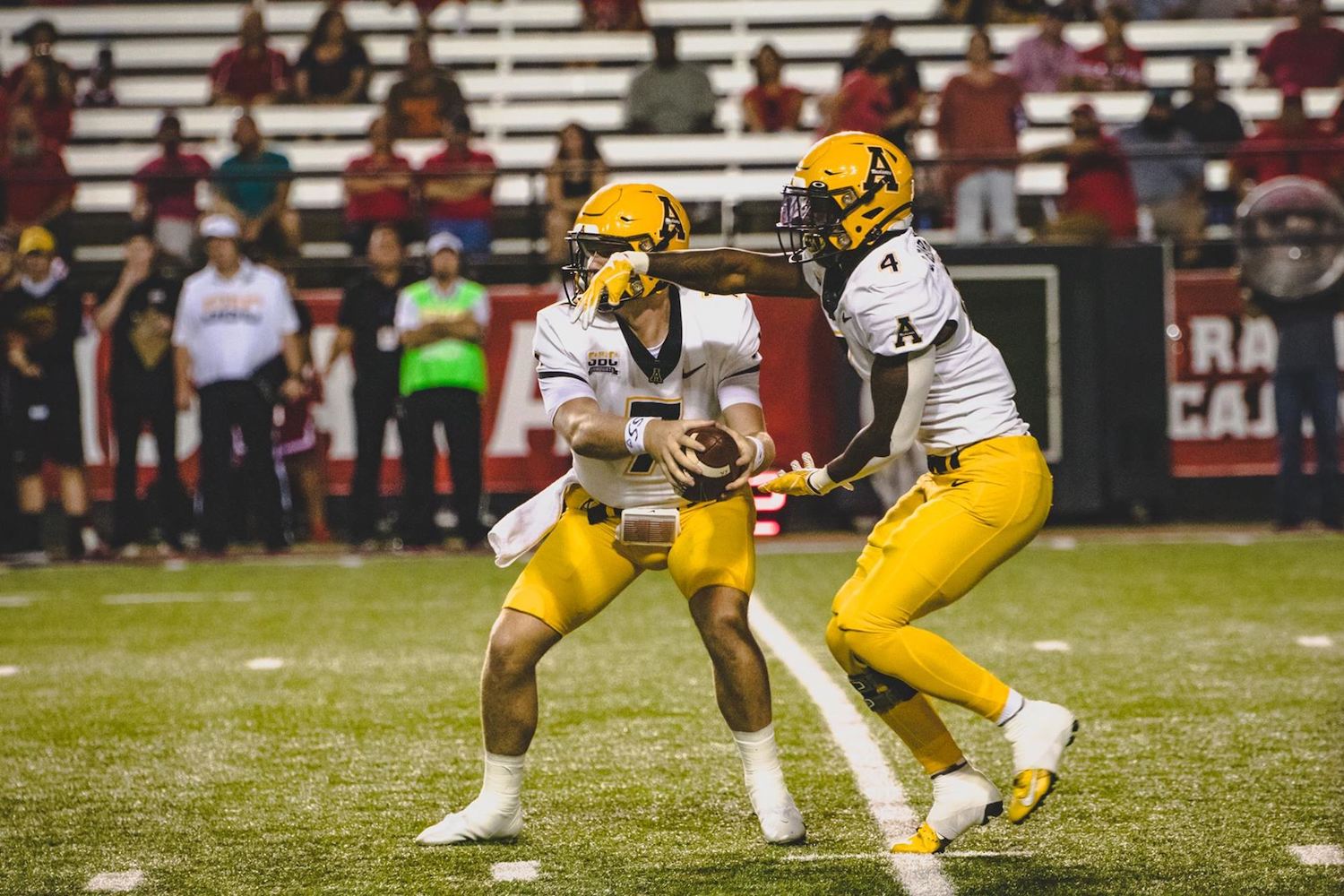 Last Updated on October 13, 2021 11:17 am
LAFAYETTE, La. — App State suffered its first Sun Belt Conference loss of the season, falling 41-13 on the road against West Division leader Louisiana on Tuesday night.

With a league win in hand against Georgia State, the Mountaineers (4-2, 1-1) return to division play next Wednesday with a home game against 15th-ranked Coastal Carolina (6-0, 2-0) to determine first place in the Sun Belt East.

Steven Jones Jr. came up with App State's biggest play of the night in the second quarter, making a leaping interception in the corner of the end zone to prevent Louisiana from adding on to a 20-3 lead as the Ragin' Cajuns (5-1, 3-0) consumed more than seven minutes with a 13-play drive toward the end zone.

Returning from a second ACL tear to play for the first time in 11 months, Daetrich Harrington gave the Mountaineers a spark with a 9-yard carry on the second play of the next series. Christan Horn's 14-yard reception moved App State inside the 20, and Chandler Staton's 27-yard field goal in the final minute of the half cut Louisiana's lead to 14 points.

The Ragin' Cajuns took control with a 21-point first quarter, scoring touchdowns on drives of 75 and 87 yards before a fumble recovery created a short field for a third touchdown drive. The only points that App State mustered during that stretch came from a 31-yard field goal by Staton.

The Mountaineers received the ball to open the third quarter, but an interception return inside the App State 20 set up a touchdown run for a 27-6 advantage.

App State responded with a 12-play touchdown drive that included conversions by Henry Pearson (14-yard catch on a fourth-and-10 pass from the Louisiana 37) and Malik Williams (8-yard reception on a fourth-and-2 pass from the Louisiana 15). Chase Brice reached the end zone on a 7-yard keeper midway through the quarter.

The Mountaineers advanced to the Louisiana 32 with an opportunity to trim a 14-point deficit in half, but a sack contributed to that series stalling. A punt from Xavier Subotsch went out of bounds at the 2-yard line, backing up the Ragin' Cajuns, but they sealed the game with a 13-play, 98-yard touchdown drive that took nearly eight minutes.

App State committed four turnovers, went 0-for-11 on third downs and allowed Louisiana to exceed 200 yards both through the air and on the ground.