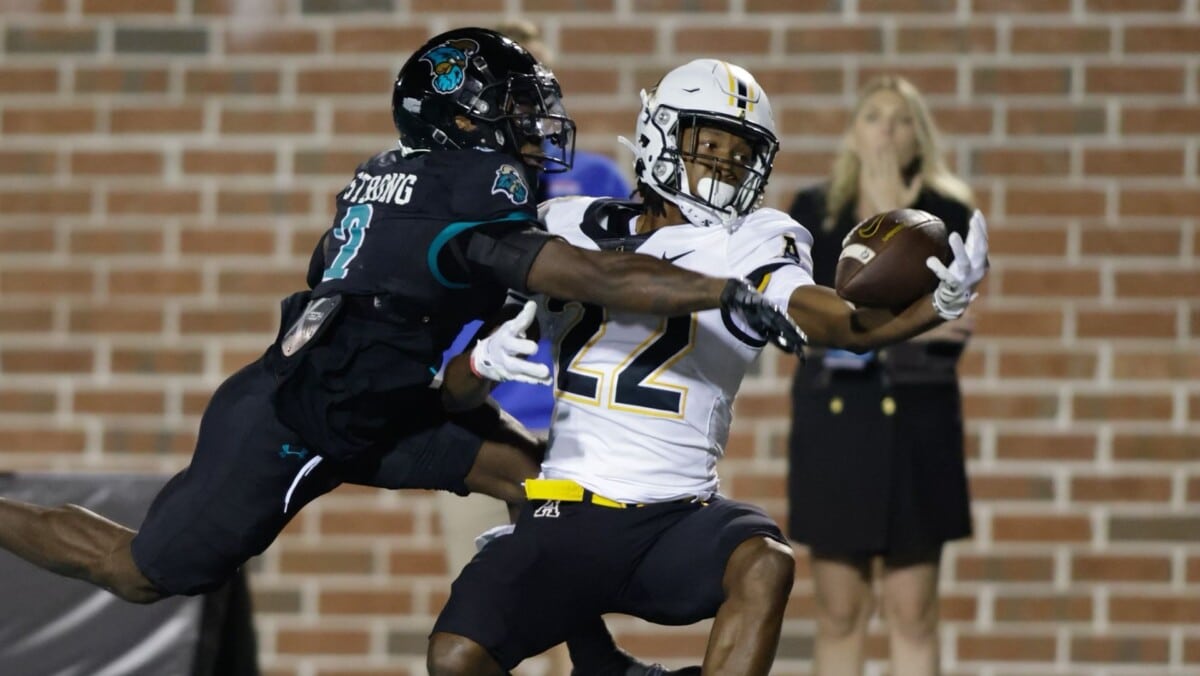 Last Updated on November 4, 2022 9:27 am
CONWAY, S.C. — App State went into the second half and then the closing minutes of the fourth quarter with chances to rally, but Coastal Carolina survived a furious finish from the Mountaineers to claim a 35-28 victory Thursday night.

Trailing 35-14 early in the fourth, Chase Brice threw a 42-yard touchdown pass to Tyler Page with 11:02 left and followed a Nick Hampton fumble recovery with a 5-yard touchdown on a quarterback keeper with 3:01 remaining.

Starting the next defensive series with all three timeouts at their disposal, the Mountaineers (5-4, 2-3) put Coastal into a third-and-11 scenario from its 24 with 2:53 left thanks to safety Jackson Greene's first-down breakup and defensive lineman DeAndre Dingle-Prince's second-down stop for a 1-yard loss. Grayson McCall's 47-yard, over-the-top completion to Jared Brown moved the chains and enabled the Chanticleers (7-1, 5-1) to run out the clock.
App State returns to action Nov. 12 at Marshall.

Brice completed 19 of 28 passes for 279 yards and two touchdowns, with Dalton Stroman making a highlight-reel, one-handed touchdown catch of 41 yards to help the Mountaineers trail only 21-14 entering halftime in front of a stadium-record 21,224 fans at Brooks Stadium. The score remained the same until early in the fourth quarter.

Hampton recorded a sack before making his big recovery with 4:57 left, and Jalen McLeod added a sack of his own. The two outside linebackers have combined for 11 sacks this season.

With App State behind by seven to open the third quarter, Coastal mishandled the kickoff out of bounds at the 8-yard line. The Chanticleers converted third-down scenarios requiring gains of 12, 8 and 10 yards in a 15-play march that chewed up 8 minutes, 36 seconds, but Steven Jones Jr.'s big hit for a 4-yard loss on a third-and-2 option pitch preceded a fourth-down incompletion from the App State 33.

The Mountaineers weren't able to drive for the tying touchdown. A third-and-1 rush lost a yard back to the App State 41, and Coastal stuffed the fourth-and-2 run.

The Chants moved 42 yards on seven plays to extend their lead on an 8-yard touchdown reception by Jacob Jenkins, then took advantage of a hit on Brice to pick off a pass at the App State 45 and return the ball to the 1-yard line. After Tavyn Jackson's long return, Reese White's third-and-goal touchdown run from the 2 gave Coastal a 35-14 lead early in the fourth quarter.

Brice's touchdown pass to Page cut into App State's deficit, and the Mountaineers gained new life when Hampton recovered a Coastal fumble at the App State 42. Brice directed a 10-play, 58-yard drive, using his legs to gain 14 yards on a third-and-8 scramble from the 19 and score two plays later.

The Mountaineers needed a third-down stop, but McCall's deep pass was part of a 9-for-15 effort on third down by the Chanticleers' offense. Another key to the game was the Chants holding App State to 88 rushing yards on 27 attempts.

Coastal Carolina used to 45-yard touchdown run on its opening series from speedy receiver Jared Brown — his sixth touchdown of at least 45 yards this season — to grab a quick lead, but Brice's 46-yard pass to Kaedin Robinson to the Coastal 9 set up a 2-yard touchdown run from Daetrich Harrington.

Backup quarterback Bryce Carpenter's 31-yard touchdown to Xavier Gravette and McCall's 38-yard touchdown pass to Sam Pinckney on a trick play early in the second quarter pushed Coastal's lead to 21-7. App State moved inside the 10 on a 23-yard completion to Christan Horn, but a fumbled snap gave the Chanticleers possession at their own 6.

App State's defense responded by forcing a three-and-out punt, allowing the Mountaineers to start their next series back in Coastal territory, and Stroman shrugged off defensive interference to make a sliding, left-handed-only catch in the end zone for his 41-yard touchdown.
App State didn't score again until the fourth quarter, hurt by the third quarter in which it ran only four plays and Coastal possessed the ball for 12:57 of the 15 minutes. The Mountaineers still had a shot late in the game, but Coastal didn't give Brice an opportunity to lead the offense back onto the field.