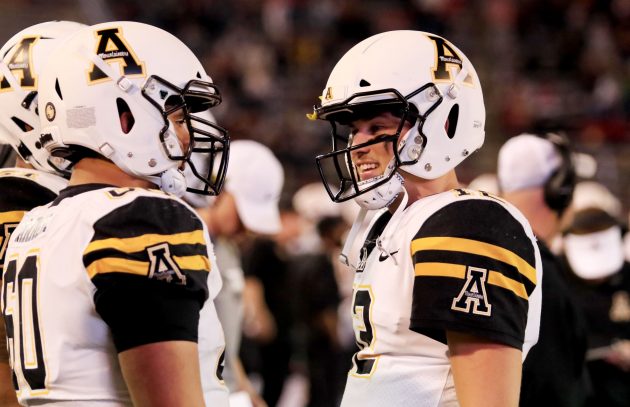 Last Updated on November 30, 2019 9:31 am
TROY, Ala. — An unblemished road record secured, App State now turns its attention to hosting another Sun Belt Conference Championship Game.

Zac Thomas threw for a career-high 326 yards while accounting for five touchdowns, including four through the air, as the 25th-ranked Mountaineers won 48-13 at Troy on Friday night. As the East Division winner with the head-to-head tiebreaker against West Division winner Louisiana, App State (11-1, 7-1) will face the Ragin' Cajuns (9-2, 6-1) in Boone next weekend in a title-game rematch that begins at noon and airs on ESPN.

With impressive victories at North Carolina, Louisiana and South Carolina already in hand this season, App State clinched its first perfect road record since 1995 by converting its first 10 third-down chances, recording four sacks and intercepting two passes against the Trojans (5-7, 3-5) at Veterans Memorial Stadium.

The Mountaineers' 6-0 away record includes the most wins for any of the seven teams nationally without a road loss, and they're the first FBS team to go 6-0 on the road since Western Michigan's Cotton Bowl team in 2016.

App State also tied the Sun Belt record for single-season victories, as it has accounted for three of the four 11-win seasons in league history.

In addition to the big night for Thomas, who completed 28 of his 34 pass attempts, Darrynton Evans' three touchdowns pushed his season total to 20 during a game in which he rushed for 82 yards on 13 carries. Thomas Hennigan set career highs with 11 catches for 140 yards, Malik Williams caught two touchdown passes and Jalen Virgil scored a long touchdown as part of his 95 receiving yards.

Defensively, Nick Hampton produced one of the four sacks while amassing a team-high eight tackles, and Desmond Franklin's interception return created a short field for App State's third touchdown. Willie Edwards made his first career interception in the fourth quarter.

After Troy kicked a short field goal to end its game-opening drive, the Mountaineers moved ahead for good on Thomas' 44-yard touchdown pass to Virgil. Jordan Fehr's sack forced a three-and-out before Evans moved into the top 10 on the program's career rushing list with a 52-yard touchdown.

Franklin nearly intercepted a pass while standing in the end zone as the Trojans' next series began at their 2-yard line, but he came up with an interception on the very next play after cornerback Shaun Jolly knocked the ball loose from the intended receiver. Franklin's 20-yard return to the 8 set up a 5-yard touchdown run from Thomas.

Hampton and Akeem Davis-Gaither recorded sacks early in 75-yard touchdown drive for Troy that trimmed App State's lead to 10 points entering the second quarter, and the Mountaineers increased their advantage to 27-10 on Williams' 8-yard touchdown catch.

D'Marco Jackson's third-down sack caused another three-and-out, and three straight completions to Hennigan preceded a 9-yard touchdown run from Evans for a 34-10 lead midway through the second quarter.

Malik Williams hauled in his second touchdown of the night on a 6-yard pass from Thomas early in the third quarter, and App State pushed the margin to 48-13 on Thomas' 25-yard touchdown pass to Evans on the first play of the fourth quarter.