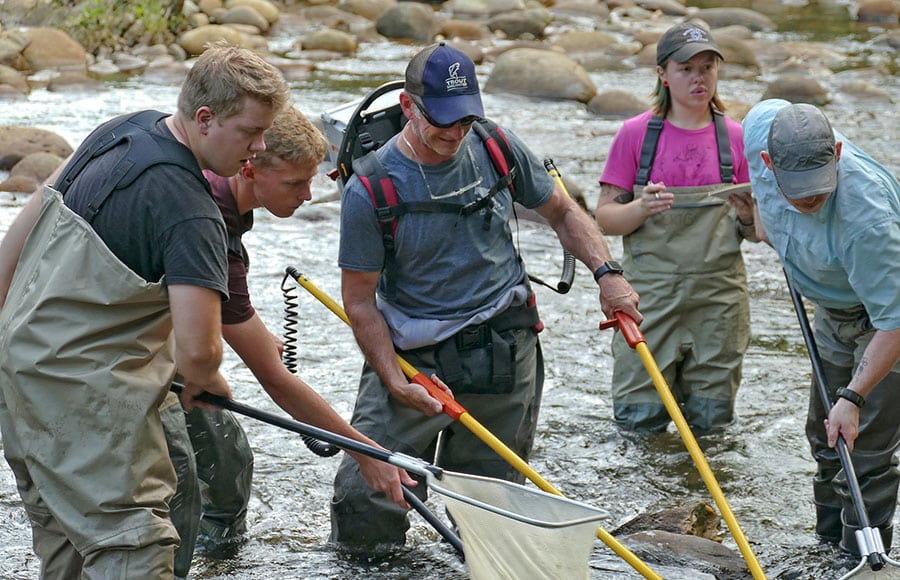 Last Updated on July 12, 2022 9:58 am
BOONE, N.C. — Catching fish, salamanders and an occasional water snake is all in a day's work for Appalachian State University biology students Nick Campany and Carson Scott — interns this summer for nonprofit organization ACleanWilsonCreek.org (ACWC).
In addition to collecting and evaluating wildlife, the interns are providing hands-on cleanup service and conservation education along a 15-mile stretch of Wilson Creek, which is part of the U.S. National Park Service's National Wild and Scenic Rivers­ System.
Located in Caldwell County — about a 45-minute drive from App State's campus — the river serves as a "natural playground" to a throng of hikers, mountain bikers, campers, anglers and other outdoor enthusiasts, said Dr. Shea Tuberty, professor and assistant chair of student affairs in App State's Department of Biology. Tuberty serves as the conservation biologist and freshwater stream specialist for ACWC, acting as the liaison in recruiting biology interns from App State.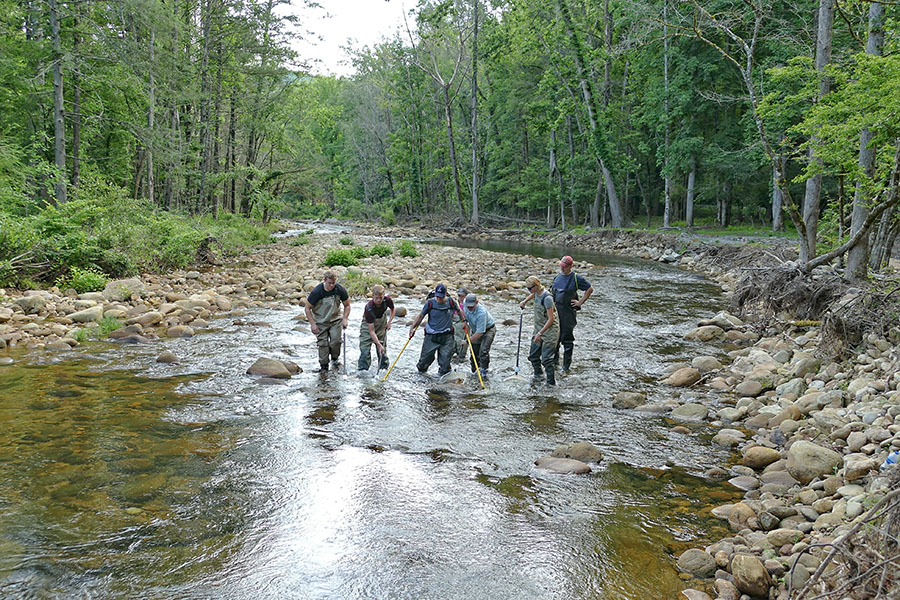 Campany, a senior from Harrisburg, and Scott, a junior from Lexington, are both biology majors with a concentration in ecology, evolution and environmental biology. Campany is also pursuing a minor in animal studies. As part of their internships, the two students:
Conduct research — designed to complement their education goals — which will contribute to the collection of data needed to promote further conservation and protection efforts for the river, wildlife, vegetation along the riverbank, and surrounding wilderness.
Patrol the river, canvassing high-use recreational areas along Wilson Creek, picking up trash along the roadsides, trails and waterfront, and positively interacting with recreational users as representatives of ACWC — distributing garbage bags and educating others about river protection efforts.
Perform educational outreach and conservation promotion, providing information to visitors from a roadside kiosk.
Assist with training and safety instruction for volunteer groups such as Boy Scout troops and hiking organizations.
Partnerships and community address a conservation need
Wilson Creek is in the Grandfather Mountain Ranger District of the Pisgah National Forest. At one time, the remote but heavily used section of the waterway next to Brown Mountain Beach Road lacked sufficient waste control infrastructure and had a high volume of litter and graffiti.
Cleanup work on Wilson Creek began as a grassroots effort in 2007 by a local store owner in Mortimer, with assistance from his employees and other occasional volunteers. Over a 10-year period, the local group removed approximately 144,000 pounds of trash, with daily trips along the riverside to gather loose litter and excess trash bags left vulnerable to raiding by wildlife.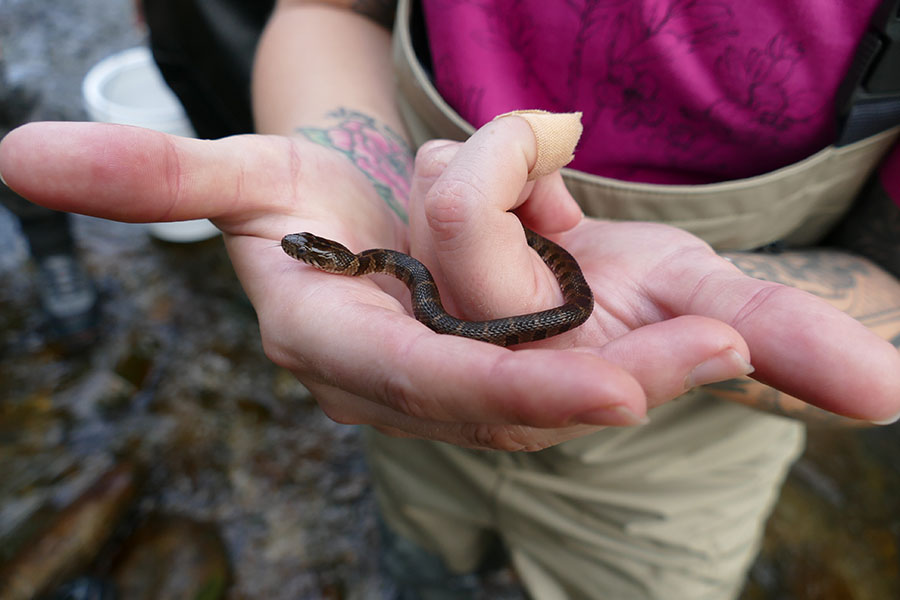 In 2017, Wes Waugh became involved with the volunteer effort after hiking and fly-fishing in the Wilson Creek area for about 40 years. Waugh retired in 2020 after more than 30 years of service at App State, including his last position as the director of auxiliary services in the Student Learning Center.
"I was acutely aware of the growing problems associated with recreational overuse and was concerned that the river and riparian zones were in great danger of being destroyed," he said. Working with the local store owner, Waugh filed the paperwork to establish the nonprofit ACWC and became executive director of the initiative.
Under Waugh's leadership, the organization was awarded a sponsorship from the USDA Forest Service — resulting in infrastructure support, provision of necessary equipment and supplies and the ability to operate out of a workstation managed by the Forest Service. The North Carolina Wildlife Resources Commission also partnered with the ACWC, providing trash bags and cleanup supplies.
In 2021, Waugh reached out to Tuberty to initiate ACWC's summer internship program employing App State biology students.
"The partnership is a perfect example of the university involving App State students in community partnerships and environmental sustainability efforts," Waugh said.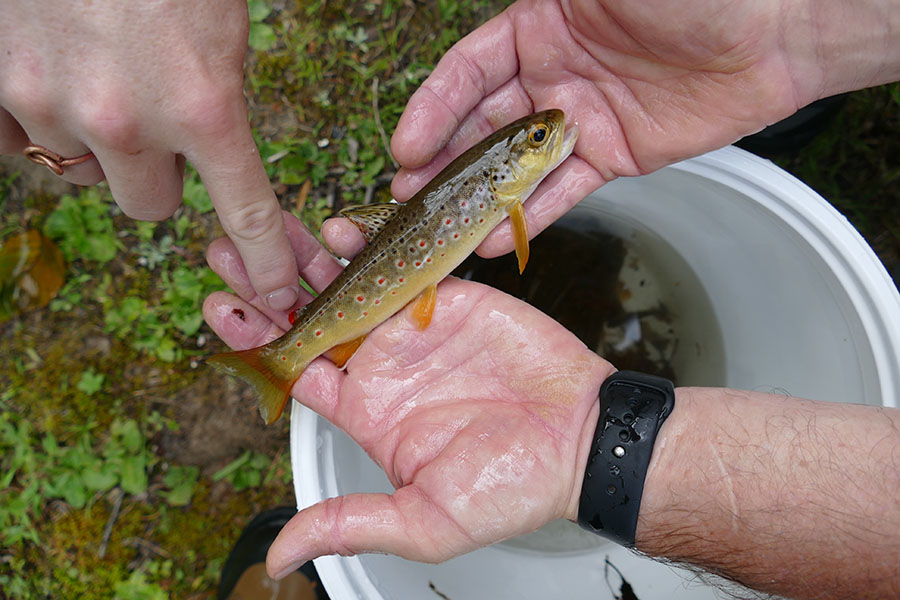 Scott, who plans to pursue a career in wildlife biology research after he graduates, said, "Getting connected to people associated with Wilson Creek and taking care of such a beautiful place is an amazing privilege. I love understanding the interactions between the community, animals and their habitats."
Scott is conducting research on salamanders in Wilson Creek, establishing baseline data on the population and types of species. "I feel like herpetology is my calling, and the work I'm doing at Wilson Creek plays into what I want to do with my career," he said.
Campany hopes to become a fishery biologist and said his internship will help him gain valuable experience in research and in conducting his own surveying.
"Dr. Tuberty has been a great mentor, teaching us the correct methods of sampling and collecting specimens," Campany said. However, the most valuable thing Campany said he has learned is the importance of establishing and maintaining connections with people.
Tuberty said, "Our interns are gaining a valuable perspective of the various partnerships and cooperative efforts that take place in a venture like this. To support a sustainable relationship between sensitive plants and wildlife and the various human stakeholders, we have to consider cultural elements and social dynamics of the residents in the area, as well as the recreational users."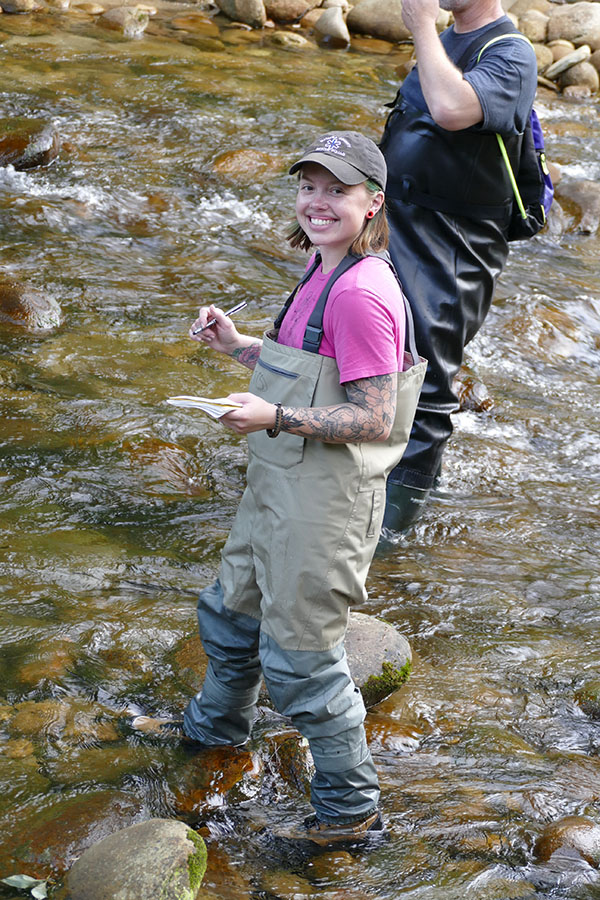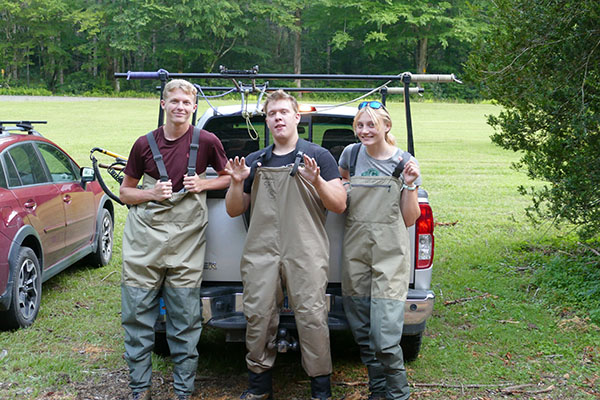 Internship provides a 'foot in the creek' for a job opportunity
App State alumna Katie Krogmeier '18 '21, who earned a Bachelor of Science and a Master of Science in biology at App State, served as an intern with ACWC in summer 2021. Now she is employed by the organization as a conservation center assistant.
Krogmeier is aiding in the design and development of two conservation centers, located on the upper and lower ends of Wilson Creek, which will serve as the headquarters for ACWC. Staff and volunteers will hold kiosk events at the centers, where they will educate visitors about the Leave No Trace principles and about the area's wildlife and flora.
Krogmeier also conducts volunteer events, supervises interns in their research and coordinates with faculty who want to utilize the area for their classes. Several App State departments — including Recreation Management and Physical Education, Geological and Environmental Sciences and Biology — use the Wilson Creek area as a training ground.
"Interns and students who study this area are able to gain useful skills and practical experience to apply in their future careers," Krogmeier said. "We hope to use their research to build more displays in our conservation centers to educate the public on why it is important to keep Wilson Creek healthy, so we can all continue to enjoy it."