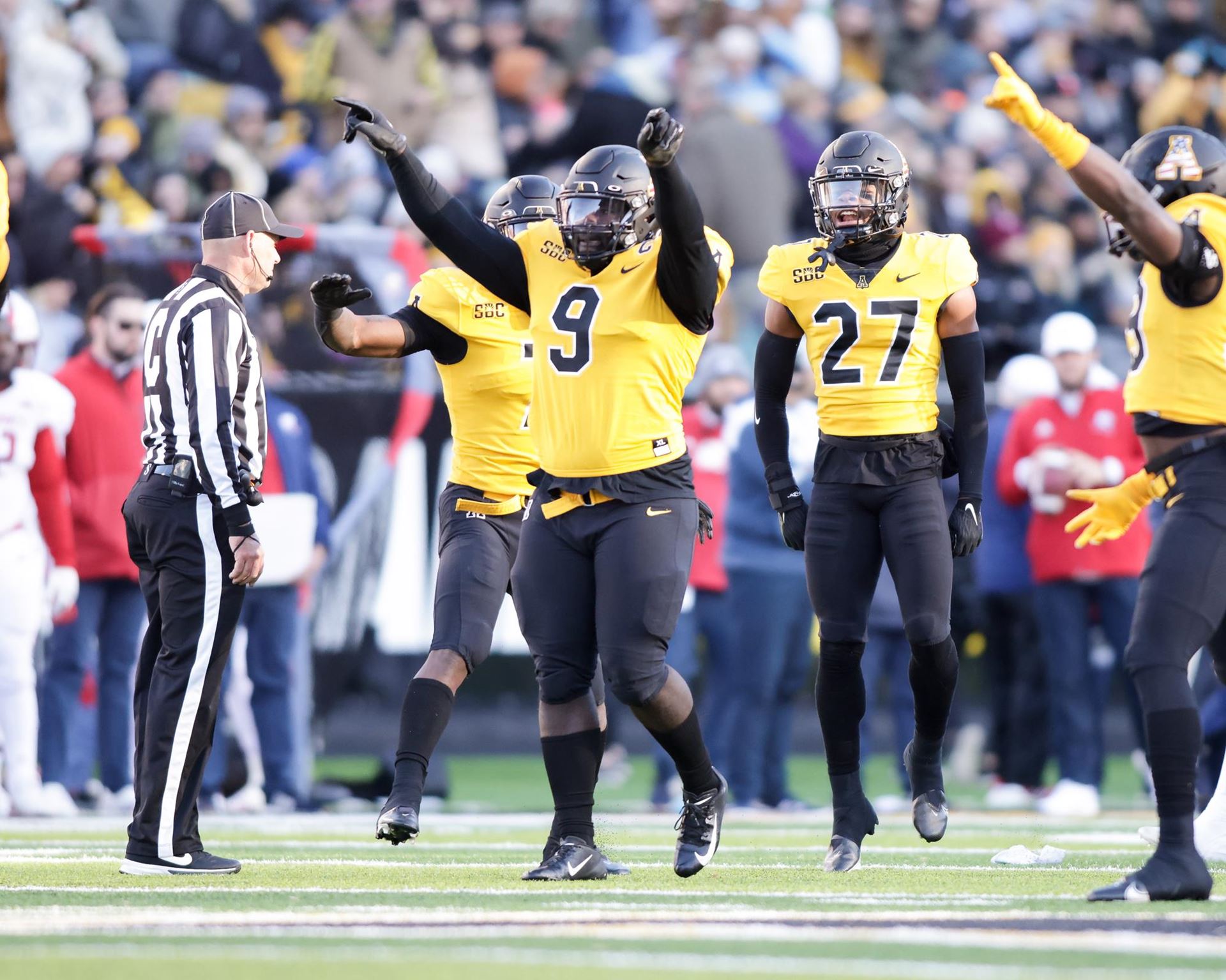 Last Updated on November 13, 2021 6:50 pm
BOONE, N.C. — Ferocious defense and fourth-down efficiency carried App State to a Sun Belt victory that gave the Mountaineers sole possession of first place in the East Division.
App State pulled away for a 31-7 win against South Alabama in front of 29,348 fans at Kidd Brewer Stadium and is now the only team on the East side with one league loss. The Mountaineers (8-2, 5-1) entered Saturday in a first-place tie with Coastal Carolina, which lost the head-to-head matchup in Boone and suffered a second league loss Saturday against Georgia State.
Trey Cobb's second interception of the day, a 100-yard return for a touchdown thanks to pressure from Demetrius Taylor, capped the scoring on a day when South Alabama (5-5, 2-5) was limited to 284 yards of offense.
Taylor and Ronald Clarke contributed sacks as App State accumulated 10 tackles for loss. Offensively, App State went 3-for-3 on fourth-down attempts, including a Chase Brice touchdown run and a fourth-quarter touchdown throw to Thomas Hennigan.
App State scored two touchdowns in a span of 56 seconds late in the first quarter to take a 14-0 lead.
The Mountaineers converted two fourth-down runs on their first scoring drive, with Brice reaching the end zone on a fourth-and-2 keeper from the 6. Two plays into the next series, D'Marco Jackson's tipped pass set up an interception for Cobb, who returned the ball 10 yards to the South Alabama 21.
App State returned to the end zone two plays later, when Corey Sutton scored his 23rd career touchdown on a 17-yard pass from Brice. Sutton moved into a tie for first place in program history with Rick Beasley with that touchdown.
Taylor's tackle for a 2-yard loss on a fourth-and-1 run from the App State 30 created a turnover on downs, and South Alabama's next drive ended with a three-and-out punt, but a fumbled punt was followed immediately by the Jaguars' only score of the day — Desmond Trotter's 27-yard touchdown pass to tight end Jacob Hopper.
App State's third turnover of the half didn't end up costing the Mountaineers, as a 40-yard field goal late in the half hit the left upright and was no good.
South Alabama had an opportunity to tie the game in the third quarter and passed up a field goal on a fourth-and-goal play from the App State 3, but Nick Hampton's pressure and Steven Jones Jr.'s tackle on the completed pass toward the left sideline led to a 1-yard loss.
Driving into the wind, App State produced the first south-to-north points all day with a 12-play, 88-yard drive that included a 50-yard completion to Malik Williams and Chandler Staton's 25-yard field goal with 2:18 left in the third quarter.
The Mountaineers gained key separation with a fourth-quarter touchdown, going for the first down instead of kicking in a fourth-and-3 scenario from the South Alabama 14 midway through the period. Brice faked a handoff and took a hit while delivering the pass to an open Hennigan, who scored the 20th receiving touchdown of his career.
Cobb's 100-yard interception return — the fourth in school history and first since Rico Mack did it against James Madison in 1990 — put the finishing touches on the home win.