Last Updated on March 26, 2022 2:29 pm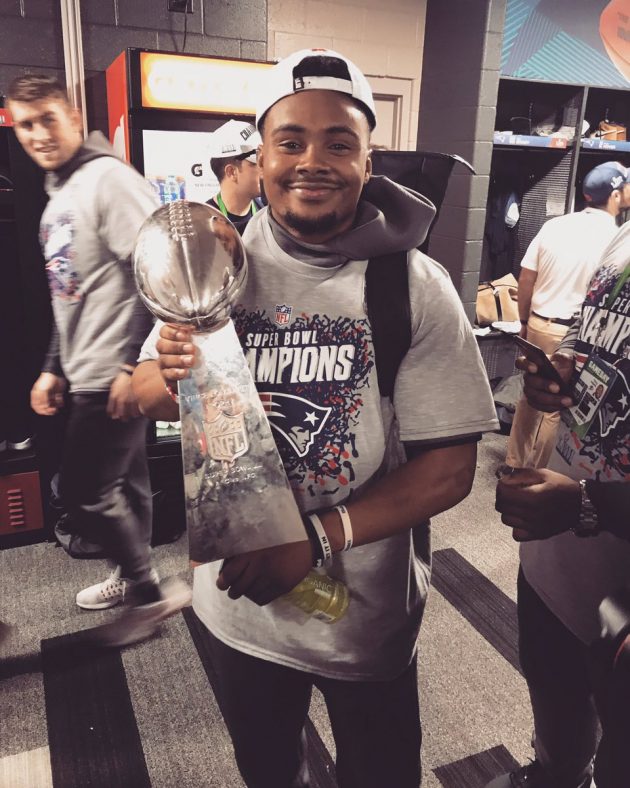 BOONE, N.C. — Appalachian State Football alum A.J. Howard will receive a Super Bowl ring. Luckily, he avoided stitches.
Howard, who finished a standout career as an App State safety in 2017, is on the practice squad for the title-winning New England Patriots. They beat the Los Angeles Rams in Super Bowl LIII last weekend, meaning Howard will add to his ring collection.
He earned three at App State thanks to its consecutive bowl victories in 2015, 2016 and 2017. The Mountaineers were also Sun Belt Conference champions in 2016 and 2017.
Howard finished his rookie season in the NFL with unexpected success.
Champs? pic.twitter.com/gKwibvq5ou

— | Aj Howard | (@aj25howard) February 5, 2019
He initially made the Arizona Cardinals' 53-man roster as an undrafted rookie. Waived the following day, he joined the New York Giants' practice squad in late October and remained with the Giants until their season ended Dec. 30. A week later, he joined the Patriots and was with the franchise throughout its unbeaten playoff run.
"It's just an amazing feeling and a blessing," Howard said this week. "Seven, eight weeks ago, when I was with the Giants, I didn't think this was a possibility. Now that it actually came and happened, it was amazing."
Howard, issued a No. 39 jersey, stood on the sidelines during the game. When the Patriots' defense was on the field, he watched the action with other members of the practice squad. When the Patriots' defense came off the field, he made sure to observe his fellow defenders and learn as much as possible.
Howard was present for the locker room celebration, even posing with the Vince Lombardi trophy. He also took part in the team parade in Boston a few days later — and has a bump on his forehead to prove it.
One fan tossed a full aluminum can toward Howard's group in hopes that a player would catch the beer and drink it. Instead, it hit Howard in the face.
"Being around all the guys, seeing everybody happy, it was a great time with great fans," Howard said before adding with a laugh, "I've got a little bump on my head from a beer that hit me square in the forehead — bad reaction time. I have to work on that in the offseason."
The Super Bowl was played in Atlanta, close to Howard's hometown of Hamilton, Ga. At App State, he started in 38 of his 51 career games and finished with 219 tackles, 11.0 tackles for loss, four interceptions and 18 passes defended.
From finishing the 2017 season in Boone, preparing for the NFL draft and being part of three franchises in 2018, Howard is at the end of what's a long cycle for every NFL rookie. Now he gets a little time to relax — he is scheduled to get married next month and return to New England in mid-April, when he'll be fitted for another ring.
The memory of winning a title in his home state will stick with Howard, who joined John Settle (1991 Redskins season), Matt Stevens (2001 Patriots season) and Daniel Wilcox (2002 Buccaneers season) in elite company as App State alums who are Super Bowl champions.
"Getting there, seeing the whole atmosphere and all the fans pile in, that made it a huge reality that the Super Bowl was there, because it didn't feel like that all week," Howard said. "Being there and being on the sidelines, getting all the momentum from the crowd, it was an amazing feeling.
"Talking to other guys about schools they're from, they widely respect App State and how well we play football."