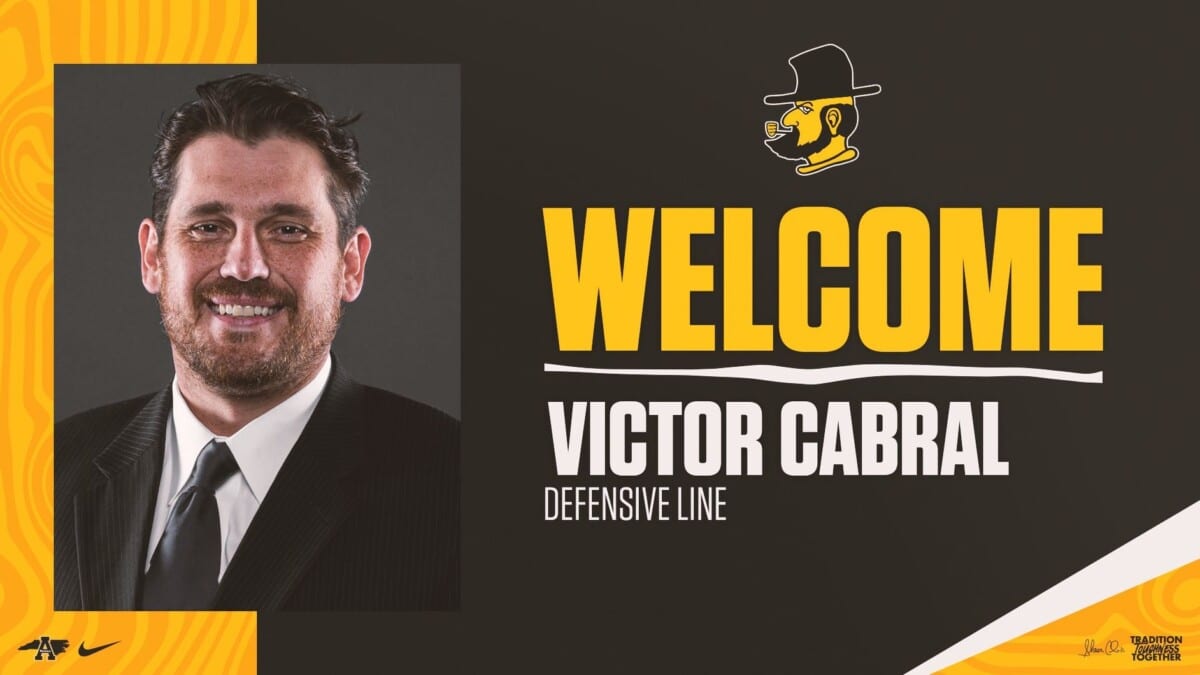 Last Updated on January 19, 2023 6:13 pm
BOONE, N.C. — App State Football has hired Victor Cabral as an assistant coach to oversee the Mountaineers' defensive line, head coach Shawn Clark announced Wednesday.
Cabral worked with recently hired defensive coordinator Scot Sloan as Georgia Southern's defensive line coach from 2018-21. He also served as the Eagles' recruiting coordinator from 2019-21.
"We're excited to welcome Vic, his wife, Erin, and their children, Zac and Lucy, to the App Family," Clark said. "Vic has a great track record of developing defensive linemen after his days as a standout lineman himself. He will bring great energy and passion to our staff."
A standout defensive lineman at Georgia Southern from 2000-04, Cabral spent 11 years on the Eagles' coaching staff over three different stints and also has coached at Samford and Georgia Military College.
"Thank you to Coach Clark, Doug Gillin and Chancellor Everts for the opportunity to coach at one of the premier programs in all of college football," Cabral said. "My family and I are fired up to join the App State Family and community. I am most excited to get to know and build a relationship with the defensive line! Ready to get to work!"
Several of Cabral's pupils at his various stops have enjoyed time in the NFL, including Raymond Johnson III, Ahmad Gooden, Michael Pierce and Brent Russell.
Under Cabral's tutelage in 2020, Johnson earned All-America honors after recording 14.5 tackles for loss and a school-record 15 quarterback hurries. Georgia Southern's defensive line combined for 34.5 tackles for loss and 11.5 sacks as the defense finished 15th in the country in rushing defense.

In 2018, all three of Cabral's starters along the defensive line — Johnson, Logan Hunt and Ty Phillips — earned all-conference honors as the Eagles produced a stout run defense that allowed just 140.5 yards per game. In 2019, Johnson earned first-team all-conference honors again, and Cabral's line corps combined for 35.5 tackles for loss.

In his three years as Samford's defensive line coach from 2015-17, the Bulldogs were selected to the FCS Playoffs twice and he tutored Gooden, the 2017 Southern Conference Defensive Player of the Year. Gooden was a finalist for the Buck Buchanan Award after totaling 101 tackles, 15.5 tackles for loss, 5.5 sacks, 11 quarterback pressures, two fumble recoveries and a forced fumble from his tackle spot.

He tutored four All-SoCon players during his time at Samford, including three-time selection Gooden, Pierce in 2015 and Roosevelt Donaldson in 2016.

Cabral spent the 2014 season as the director of player personnel at Georgia Southern.

For four years from 2010-13, he served as the defensive line coach at Georgia Southern. Cabral worked with several standout players, including Russell, a four-time All-American and 2011 Southern Conference Defensive Player of the Year who became the Eagles' career sacks leader in 2012.

Cabral spent three years as the defensive line coach at Georgia Military College from 2007-09, while also serving as special teams coordinator for the Bulldogs. In 2007, the GMC defensive unit earned a No. 1 ranking in rushing defense in the NJCAA. The next season, the Bulldogs ranked third nationally in total defense. The Bulldogs also had several individuals earn national accolades. Leroy Burgess was selected as a third-team NJCAA All-American in 2007, and Torrey Ball earned second-team All-America honors in 2008.

Under the tutelage of Cabral, Markeith Wylie was recognized as a first-team Academic All-American in 2007. Thirteen GMC players coached by Cabral received scholarships to NCAA Division I programs during his three seasons in Milledgeville.

Cabral spent the 2005 season coordinating video and quality control at Georgia Southern.

A four-year starter and letterwinner in college, Cabral was part of Georgia Southern's 2000 national championship team, two NCAA semifinal playoff appearances and four conference titles during his career. Following his collegiate playing career, Cabral was the 24th overall draft pick by the Montreal Alouettes of the CFL in 2005.

The former Eagle team captain earned his bachelor's degree from Georgia Southern in 2006 and graduated with his master's degree in 2013. His wife was a four-year letterwinner and team captain for the Georgia Southern swimming team and is also a two-time GS graduate.
CABRAL AT A GLANCE

Coaching Experience
2005-06: Georgia Southern (Video/Quality control)
2007-09: Georgia Military (Defensive line/Special teams)
2010-13: Georgia Southern (Defensive line)
2014: Georgia Southern (Director of player personnel)
2015-17: Samford (Defensive line)
2018: Georgia Southern (Defensive line)
2019-21: Georgia Southern (Defensive line/Recruiting coordinator)

Playing Experience
2000-04: Georgia Southern (DL)
2005: Montreal Alouettes (DL)

Alma Mater: Georgia Southern, 2006
Hometown: Naples, Fla.
Birthdate: Dec. 31, 1982 in Toronto, Canada
Wife: Erin
Son: Zac
Daughter: Lucy
Twitter: @Coach_Cab