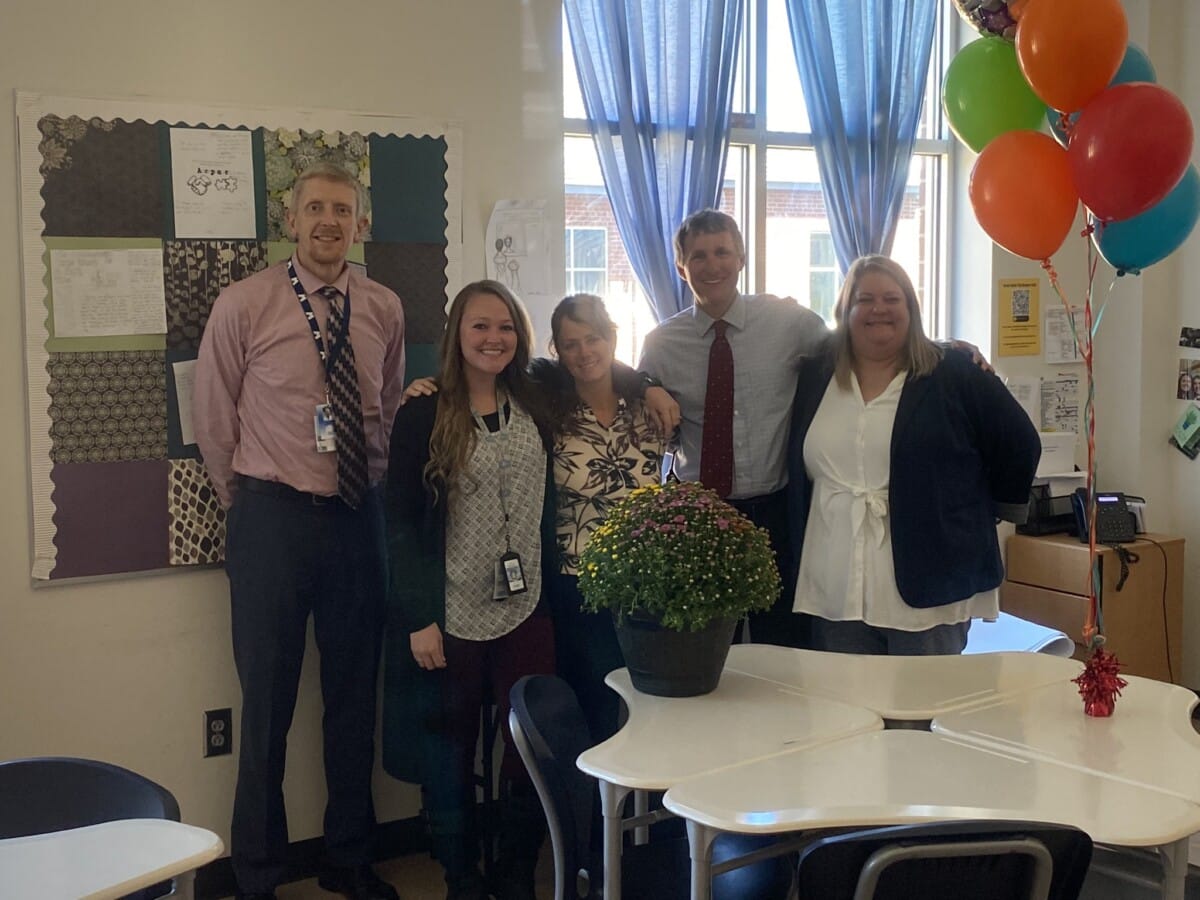 Last Updated on September 28, 2022 3:14 pm
BOONE — Watauga High School teacher Angela Brock has been named the 2022 Watauga County Schools Exceptional Children's Program Educator of Excellence. She presented the award Sept. 26 in her classroom at WHS.
Brock is an EC Resource teacher at WHS, where she has served since 2018. Watauga County Schools Exceptional Children's Program Director Dr. Mike Marcella said Brock was nominated for the award by her fellow EC educators and school principals from across the district and was chosen from a group of more than 20 nominees.
Marcella said Brock was the perfect candidate for the award and he was pleased to see her passion and dedication to students highlighted.
"It is with great pride and pleasure that I announce that, after a vigorous voting process, Angela Brock is our 2022 Watauga County Schools Exceptional Children Program Educator of Excellence," Marcella said. "This is a very well deserved and earned recognition for the outstanding work she does for our students and staff here in Watauga County Schools."
Watauga County Schools Superintendent Scott Elliott echoed Marcella.
"We are very proud of Ms. Brock and are fortunate to have her as such an important part of our EC Department and school district," Elliott said. "To be chosen for recognition by your peers and the people who know your work best requires truly exceptional dedication and passion for your craft. We are glad to have Ms. Brock go on to represent our school district statewide in November."
Brock will go on to represent WCS at the NCDPI Conference in November, and will be recognized there during an evening reception by North Carolina EC Director Sherry Thomas. She will receive a free conference registration and accommodations. Brock will also be recognized by the Watauga County Board of Education at an upcoming public meeting in the Fall.
Brock, center, is presented her award in her classroom by WHS Vice Principals David Koontz, Tierra Stark and Erin White and Principal Chris Blanton.