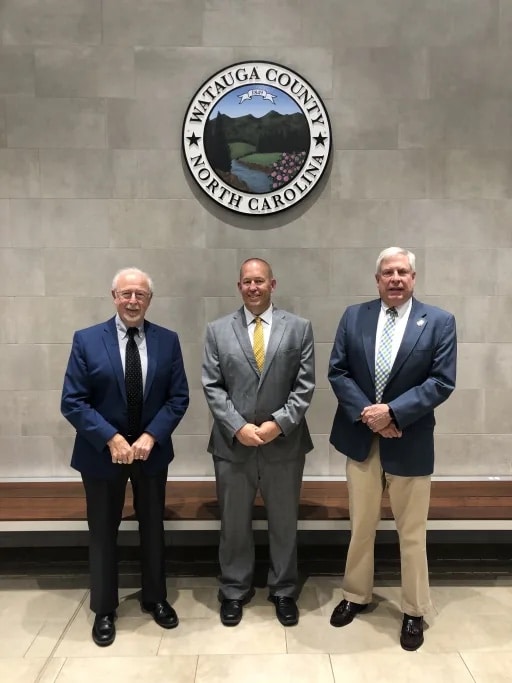 Last Updated on December 18, 2021 8:06 pm
Article courtesy of Chuck Gordon and Wingate University
Watauga County is considered one of the better places to live in the Southeast. Fresh mountain air, a low crime rate, hiking and snow skiing, and a growing university as its cultural heart. Forbes has listed Boone, the county seat, as one of the 25 best places to retire in the U.S.
Perhaps it's just a coincidence that the chairman of the school board, the chairman of the county commissioners and the sheriff all happen to be Wingate graduates.
"We always joke that you have to have Wingate people running things for it to go right," says John Welch '01, who leads the Watauga County Board of Commissioners.
As board chair, Welch often works closely with Len Hagaman '69, sheriff of Watauga County since 2006, and with Dr. Gary Childers '67, chairman of the board for Watauga County Schools.
Recently, Watauga County Schools purchased some land, with the help of Welch and the county commissioners, to build a new school. That's no small deal in a county with just nine schools (eight K-8 schools and one high school). The school district is considered one of the tops in the state.
"We aren't a school system that rests on its laurels," Childers says. "We're always looking to get better, and that means serving our families better."
After a nearly-50-year career in education, including 32 as a teacher and principal in the Watauga system, Childers was elected to the school board as a 70-year-old. Now 74, he was elected chairman of the board last year.
Welch, associate athletics director for internal operations at Appalachian State, got his public-service start on the school board, too, in 2010, as his daughter was entering kindergarten. "I just decided, what better way to be involved in my daughter's education than being on the school board?" he says.
After a two-year term he ran for county commission and won, and he's now been board chair for five years. His wife, Christy Campbell Welch '00, a school counselor, is on Wingate's Board of Visitors.
Hagaman studied biology at Wingate, but a stint with the Army Security Agency in Southeast Asia led him originally down the law-enforcement path. He worked as an assistant police chief, as a town manager, and as director of public utilities and engineering before retiring in 2005. He didn't like sitting on his hands and decided to run for sheriff. "If I win, I win. If I don't, I don't," he recalls thinking. Hagaman, 70, has been sheriff for 15 years and plans to try for another term next year.
Like Welch, Hagaman was born and raised in Watauga County. Giving back to his hometown comes easy to him, but he says Wingate played a key role. "Wingate has an interwoven flavor of giving back to the community and being involved in the community," he says.
Childers, who grew up in nearby Burke County, also has cultivated a service mentality since his Wingate days. "Each of us just had this desire to serve in some capacity," Childers says. "You could say that Wingate instilled that in us."