Last Updated on December 15, 2014 2:22 pm
***For more information about the history of earthquakes in the High Country visit High Country Earthquake History page***
The USGS is reporting an additional earthquake in the area on Sunday night. The magnitude 2.1 earthquake was located 10 miles NNE of Lenoir, 14 miles SE of Boone, 23 miles NNW of Hickory and 24 miles NNE of Morganton. That quake occurred at 9:27pm.
This proceeded a 3.0 magnitude earthquake which occured at 1:44am Monday morning.
Counting the two recent, a total of 8 earthquakes have been felt in the High Country since 2011.
Map: USGS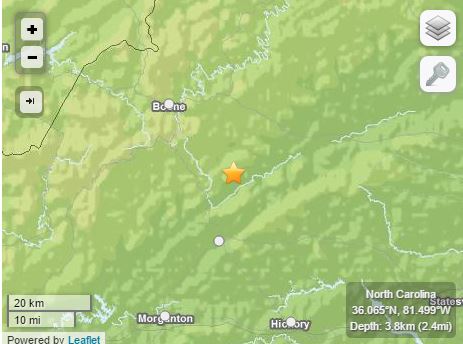 For more information on past earthquakes in the High Country see these articles:
Earthquake Confirmed Thursday Evening
Early Morning Earthquake Near Blowing Rock
South Carolina Earthquake Felt In Watauga & Ashe
Area Residents Feel Earthquake Rumble