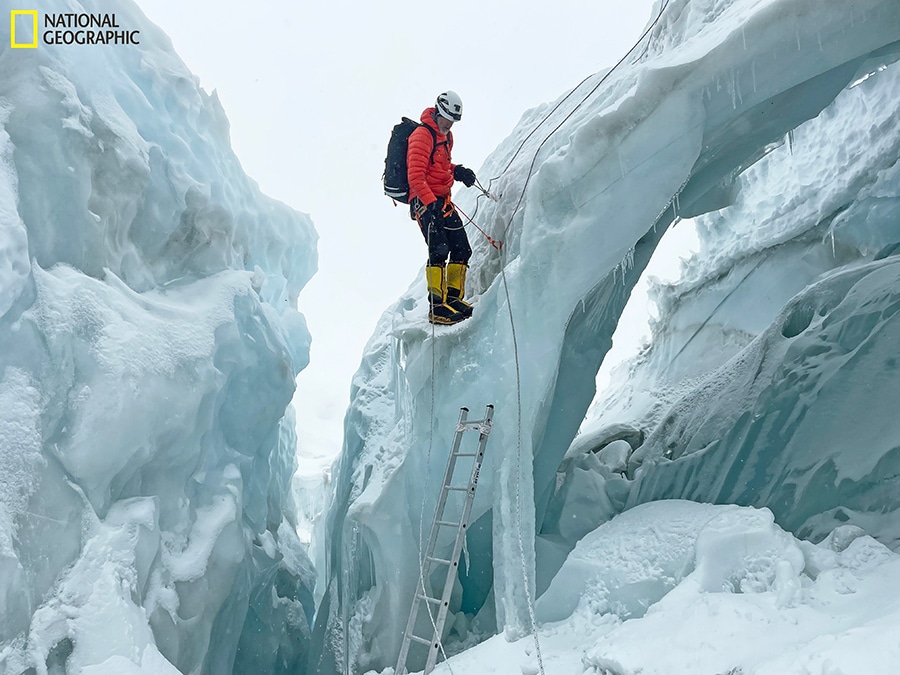 Last Updated on June 7, 2022 4:39 pm
BOONE, N.C. — Dr. Baker Perry, National Geographic Explorer and professor in Appalachian State University's Department of Geography and Planning, led a successful return expedition to Mount Everest this spring, coordinating the maintenance of weather stations on the world's highest mountain.
On May 9, the National Geographic Society (NGS) expedition team, in collaboration with a group of elite climbing Sherpas, installed a new weather station at Bishop Rock, located just below the summit of Mount Everest, at an elevation of 8,810 meters (28,904 feet).
The installation, along with essential maintenance of four other automatic weather stations at various points on the mountain, builds upon the record-breaking National Geographic and Rolex Perpetual Planet Everest Expedition in 2019.
"We were targeting Bishop Rock in 2019, but because of excessive climber traffic and other circumstances, we just couldn't get there. So this expedition was really a culmination, securing a better location for the highest station," Perry said.
The Bishop Rock installation replaces the Balcony station (elevation 8,430 meters, or 27,657 feet) installed in 2019. The Balcony station, which was impacted by severe weather, was the world's highest automatic weather station at the time of installation.
The team used newly developed wind sensors and radiation sensors — more durable than those available in 2019 — on the Bishop Rock station, and updated the sensors on the South Col station (elevation 7,945 meters/26,066 feet).
The weather station network on Everest provides unparalleled and critical data on how climate change impacts the planet. Data from the stations — managed by Perry at App State in collaboration with other partners — can help communities respond to climate risks that threaten the lives and livelihoods of more than 53 million people who live in the Himalayan Mountains region.
Real-time wind, temperature and precipitation measures from the stations are also improving climber safety on the main Mount Everest climbing routes. Worldwide, the data are enabling scientists to learn more about climate at high altitudes and its impact on glacier health and water supply, Perry said.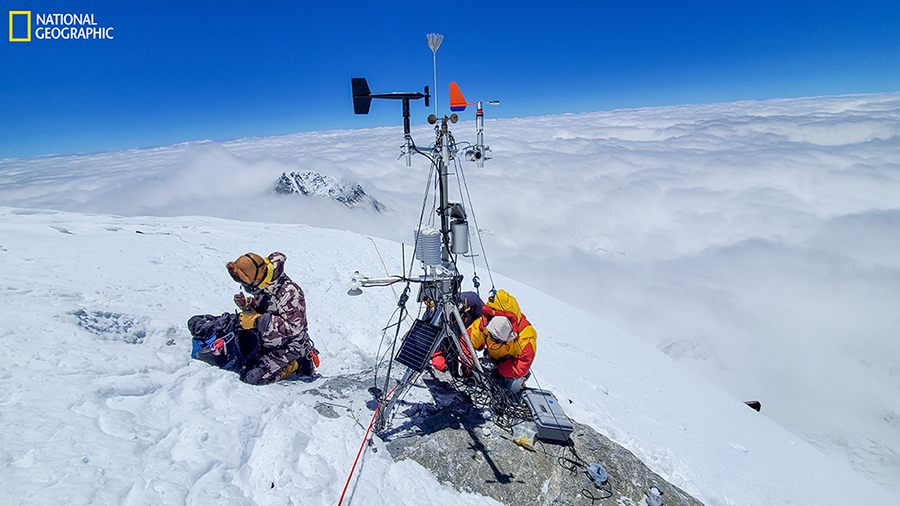 Working with Sherpa, Nepali partners
Members of the Sherpa community, who have vast knowledge of Mount Everest, were essential partners in the return expedition with Perry. Also key members of the team, Perry said, were National Geographic Explorer Dr. Tom Matthews, Nepali climate scientist Arbindra Khadka and guides Dawa Yangzum Sherpa — the first internationally certified female guide from Asia — and seven-time Everest summiter Pete Athans, all of whom were part of the 2019 expedition.
Tenzing Gyalzen Sherpa, the lead Sherpa, has worked with the NGS expedition team for the past three years and performed maintenance on some of the stations last year.
"Not only does Tenzing know what he is doing, he is able to convey instructions to the rest of the team," Perry said. "He feels ownership in the project and is committed to long-term involvement in the operation and maintenance of the stations."
Perry said he was impressed and encouraged by the capability of the Sherpas to handle the technical aspects of the weather stations. "Ultimately, the Nepali scientists and Sherpa community are best positioned to keep these stations up and running, and that is the future intent," Perry said.
Prior to heading to the Everest region, Perry, Matthews and Khadka spent a week in Kathmandu, meeting with representatives from the Government of Nepal's Department of Hydrology and Meteorology (DHM) and Department of National Parks and Wildlife Conservation; Tribhuvan University; and the International Center for Integrated Mountain Development.
They conducted a workshop, reviewing the technical specifications of the weather station network, sharing research highlights to date and discussing how the data can be used to support decision-making and policy.
"It was helpful to have all of these stakeholders in the same room, considering the opportunities to collaborate and share data across the different institutions," Perry said.
On the two-week trek to Everest's Base Camp, three staff members from DHM and one colleague from Tribhuvan accompanied the NGS expedition team, assisting in the maintenance of the stations in Phortse (3,810 meters/12,500 feet) and the Base Camp station (5,315 meters/17,438 feet).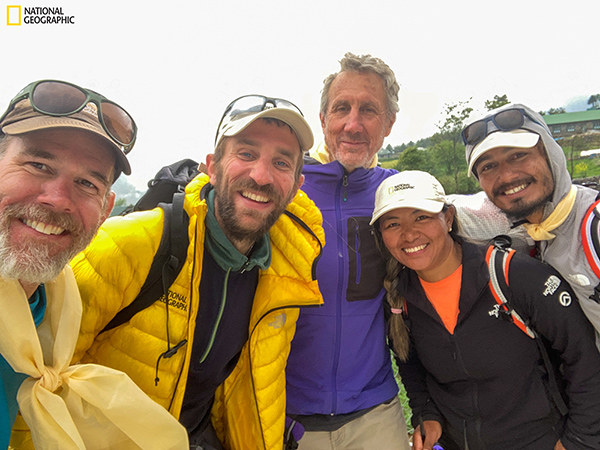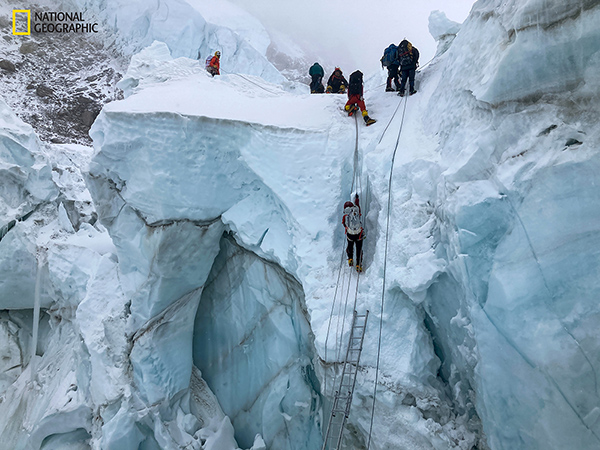 Teaching from Base Camp
While Perry employed his skills as an educator during the expedition — teaching technical skills to Sherpas and sharing results and interpretations with various stakeholders — he also continued instructing his students back at App State.
With in-class assistance at App State from Dr. Mike Mayfield, geography and planning professor emeritus, and Perry's graduate student teaching assistant, Taylin Spurlock, Perry recorded and delivered lectures along the trek and while at the Everest Base Camp — and even uploaded students' final grades from inside his tent.
Perry said he updated students with progress reports on his expedition and covered regular class topics as well.
"Just walking around Base Camp, there was so much to see and share. I mean, I was sitting on top of a glacier, with lakes forming underneath me. It was such a dynamic landscape," he said.
"The topics we were studying in the classroom — climate change policy, social and environmental impacts from climate change — were directly relevant to what is happening in Nepal," he added.