Last Updated on September 11, 2016 7:17 pm
It's not everyday that a former long-time Watauga County resident gets hand picked to appear in a national commercial, but one woman is living that dream.
Exercising and the internet has given Felicia Bua-Hall the chance to both dramatically change her life, and get a small taste of Hollywood. In January 2016, Bua-Hall started her experience with the online fitness program Daily Burn. The program offers users the chance to work out in a location and time that works best for their schedule. Bua-Hall says, "My sister in law signed me up to run a half marathon with her. I had seen advertisements on social media about Daily Burn and decided I would sign up for the 30 day free trial to try and see if i could get in shape for the race. I figured I could cancel after the 30 days was over if it wasn't working."
      Not only did Bua-Hall end up not canceling, but she never dreamed what was to come. In an interview with WataugaOnline.com the former 19 year resident of Watauga County, "not ashamed to admit her age" 35-year-old, mother of 3 and current Ashboro resident tells how the events from January to now unfolded:
"After 2 weeks, I had decided to stick with it and not cancel. I started to post my fitness successes, failures, basically my whole fitness journey on Instagram. I changed my entire diet and chose to make an entire lifestyle change.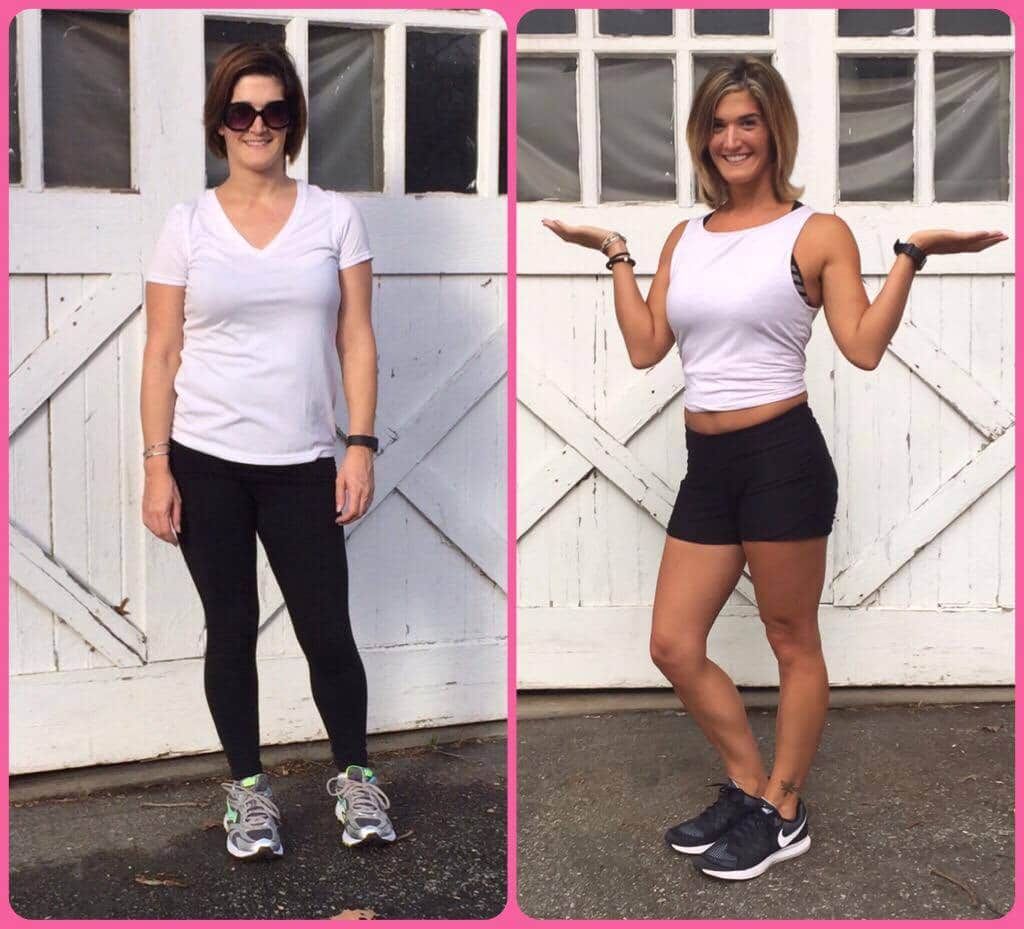 After 6 months, I posted a before and after picture of my results from using Daily Burn and the producer saw my photo from where I had used the hashtag #dailyburn. The producer commented and asked if I would mind if he shared my photo on their Instagram page and Facebook page. Of course I said yes.
The next day he emailed me and asked me if I would be interested in doing a video chat with producers about possibly being shown in their new commercial featuring people who lost weight using the program. I had the video interview on a Monday and on Wednesday they let me know that I was selected. 100s of people have posted about their success and I was thrilled that they chose me along with 3 others.
On Friday August 5th, I was flown out to Santa Monica for 2 nights and 3 days. On Saturday August 6th myself and Lindsey (one of the other participants) were picked up early that morning and brought to the set in Brentwood, the two others, Adrienne and James, were brought to the set a few hours later. We spent the whole day filming the commercial and we were treated like stars. The commercial should start to air around September 1st but I have already had a photo of myself shown on Pinterest for a Daily Burn ad."
She concluded by adding, "We were on set for 12 hours the day of the shoot, but spent the entire next day touring LA, Rodeo Drive, and Venice Beach. It was an experience that I never thought I would have and it was beyond amazing!"
Her parents, Pat and Tony Bua, still live here and Bua-Hall says they have been very excited about her opportunity.