Last Updated on October 2, 2022 5:40 pm
And the rains continue into day 7 for the High Country. For a month that only recorded 2.49 inches of rain through 6am Wednesday September 23, that much was recorded officially for Boone in just one day over the last week. Since Thursday Sept 24, 8.04 inches is the mark so far with more rain on the way this week.
On Tuesday minor flooding was reported in sections of the county that typically flood first, most notable around the Boone airport/Bamboo area and the Dewitt Barnett Road bridge in Valle Crucis. A section of Watauga River Road was also underwater on Tuesday, and through the overnight into Wednesday.
Here are some of the more notable items regarding rainfall totals over the last week. Boone officially recorded 2 inches of rain between 6am Friday and 6am Saturday, 2.65 inches was recorded from 6am Sunday through 7am Monday. Those two days alone make up over half of the amount of rain for the entire month.
 As far as upcoming rain, forecasters are turning their attention to Hurricane Joaquin and it's possible impact on North Carolina. The High Country already had rain in the forecast, but could see more depending on the storm's track.
NWS rainfall amounts from 8pm Monday – 8pm Tuesday
…WATAUGA COUNTY…
BLACK BURN KNOB 2.88 IN 0800 PM 09/29 IFLOWS
2 W BLOWING ROCK 2.45 IN 0810 PM 09/29 CWOP
3 SSE FOSCOE 1.87 IN 0803 PM 09/29 CWOP
BOONE PRECIP (TVA) 2S 1.76 IN 0715 PM 09/29 GOES
WATAUGA RIVER/FOSCOE 1.74 IN 0800 PM 09/29 IFLOWS
BOONE 1.43 IN 0813 PM 09/29 CWOP
HOWARDS KNOB 1.36 IN 0400 PM 09/29 IFLOWS
1 NNW BEECH MOUNTAIN 1.09 IN 0802 PM 09/29 CWOP
Watauga River flood gauge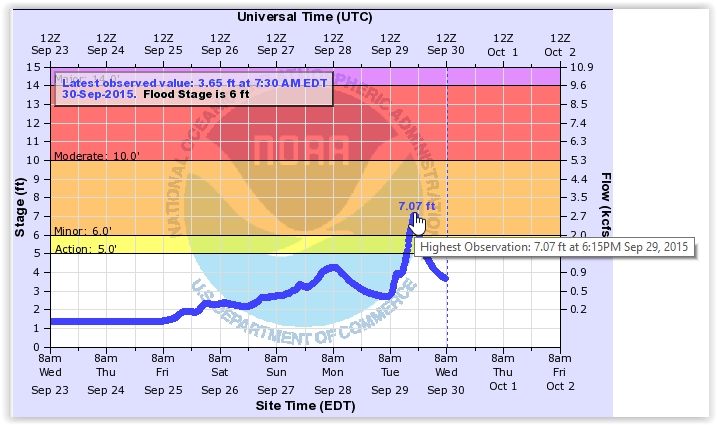 Creekside Lane at Kellwood on Tuesday afternoon. Photo:Catherine Greene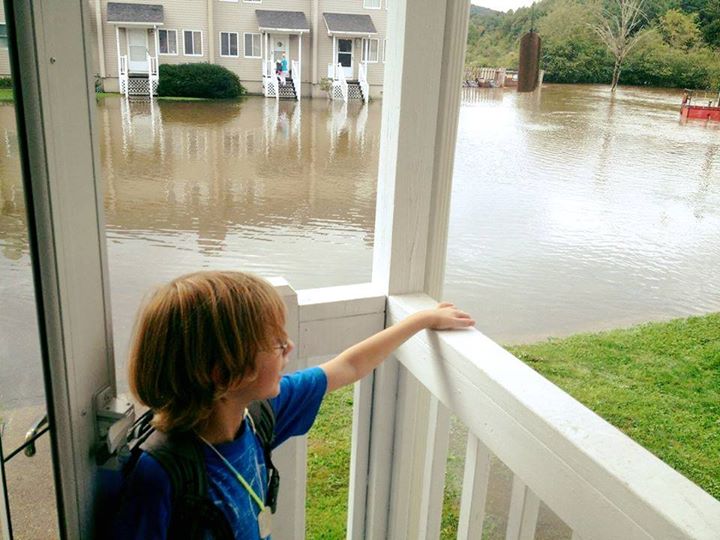 Dewitt Barnett Road Bridge in Valle Crucis. Photo: Anita Presnell