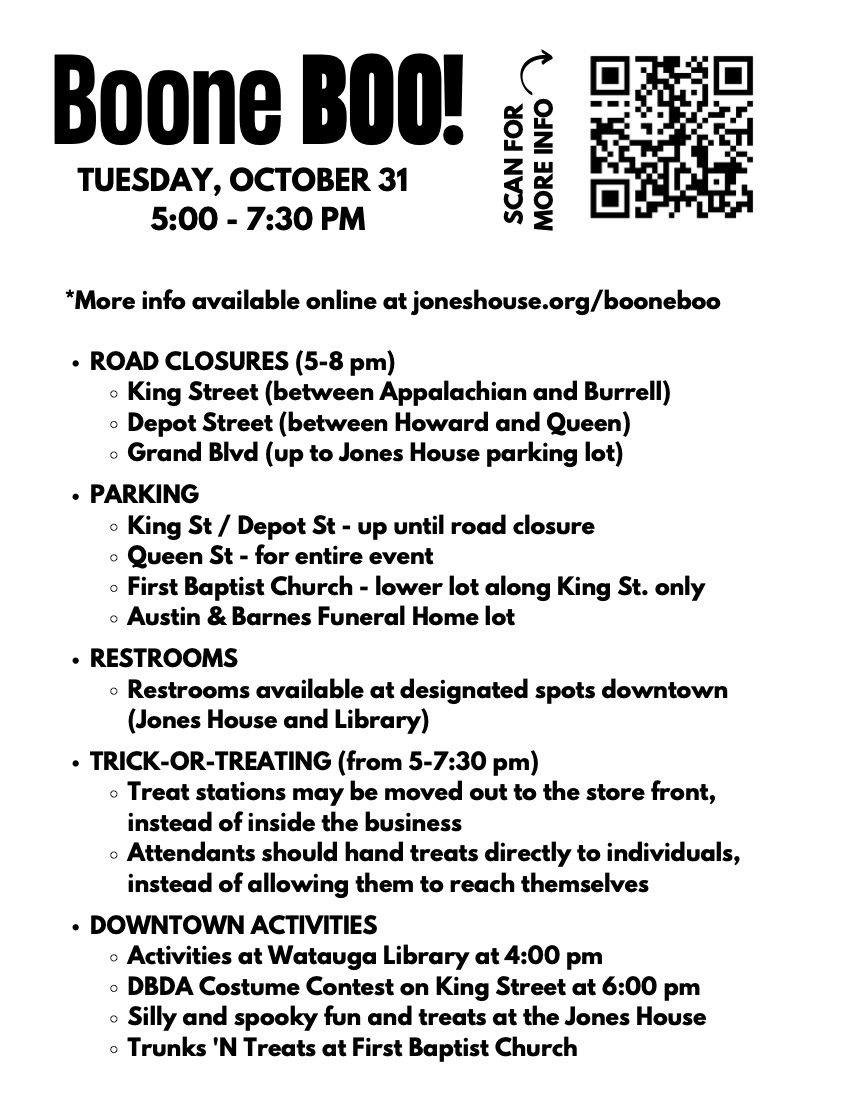 Last Updated on October 24, 2023 9:18 am
Boone BOO!, the annual Halloween celebration hosted by the Town of Boone and the
Downtown Boone Development Association, will take place on Tuesday, October 31. From 5:00
to 7:30 p.m., the public is invited to downtown Boone for an evening of trick-or-treating and
family-friendly festivities.

During the event, the central part of King Street, between Appalachian Street and Burrell/Waters
Streets, will be closed to vehicle traffic to allow extra space for pedestrians to enjoy
trick-or-treating and other entertainment. Downtown guests are encouraged to arrive early and to
use Rivers Street as an alternate route. On the day of the event, parking will be free in downtown
metered spaces and lots beginning at 3:00 p.m., and other public lots will be available after 5:00
p.m.

"We are so excited to be hosting our 23rd Annual Boone BOO!," says Downtown Coordinator
Lane Moody. "We look forward to welcoming our community Downtown for the evening and
are grateful for the partnerships that have led to this being one of the most popular events of the
year!"

The scene will be set with larger-than-life Halloween inflatables lining the sidewalks, while a
curated Halloween playlist streams down King Street. Ghosts and goblins, witches and wizards,
superheroes and villains, and costumed characters of all sorts will frolic down King Street,
visiting dozens of participating storefronts for trick-or-treating. For children with food allergy
concerns, various sites will also be handing out non-candy treats.

The DBDA will again host a costume contest staged along King Street next to Mast General
Store, starting at 6:00 p.m. A panel of judges will consist of Mayor Tim Futrelle, Community Resource Sergeant/ Downtown Officer Geoff Hayes, DBDA President Kendra Sink, and DBDA
Vice-President Suzanne Livesay. Winners in various age groups and categories will be awarded
prizes donated by downtown businesses.

NOTE: For those that are interested in participating in the Costume Contest plan to meet at the stage in front of the Jones House at 5:30pm, to get lined up!

In addition to the trick-or-treating and costume contest along King Street, there will be additional
spooky fun for Boone BOO! throughout downtown Boone. "It is always so fun to see the kids
and families come out with their costumes to flood downtown with Halloween spirit," says
Cultural Resources Director, Mark Freed.

The celebration starts early at 4:00 p.m. at the Watauga County Library, where families can enjoy
spooky story time and a Halloween-themed sensory station, as well as crafts and activities with
the Children's Playhouse.

First Baptist Church will be hosting a trunk-or-treat in its upper parking lot during the event,
with additional treats and activities.

As usual, the Jones House will be transformed for the evening, with plenty of Halloween fun for
kids of all ages. Brave visitors can choose to make their way through the spooky haunted house,
while others can choose to take in the fun from the safety of the decorated lawn. Either way,
there will be plenty of tricks and treats to go around.

Road Closures/Traffic Redirections:
In order to allow for maximum safety of patrons for Boone BOO, the following roads will be
closed at 5:00 P.M., and will be reopened at approximately 8:00 P.M.:
● West King Street (beginning at Appalachian Street and ending at Burrell Street)
● Depot Street (beginning at Howard Street and ending at Queen Street)
● Grand Boulevard (beginning at West King Street and ending at Orchard Street)
Through traffic is asked to use Rivers Street. Queen Street and Howard Street will remain open,
however, motorists are asked to drive slowly and be aware of pedestrians.
Parking:
Metered parking and multi-hour lots owned by the Town of Boone are available until 5:00 P.M..
However, vehicles which remain on West King Street and Depot Street after 5:00 P.M. will be
unable to leave until the road is reopened. At 5:00 P.M., the parking lot at the lower lot of the
First Baptist Church, located at 375 West King Street, will be opened for patrons of Boone BOO.
The parking lot at Austin & Barnes Funeral Home will be available at 5:00 P.M..

As always, the Town of Boone and DBDA strive to create a fun, safe, and family-friendly
atmosphere and ask that all Boone BOO! participants keep this in mind, particularly regarding
behavior and costume choices. For more information about Boone BOO! Please contact Lane
Moody at 828-268-6283 by email at lane.moody@townofboone.net, or please visit
joneshouse.org/booneboo