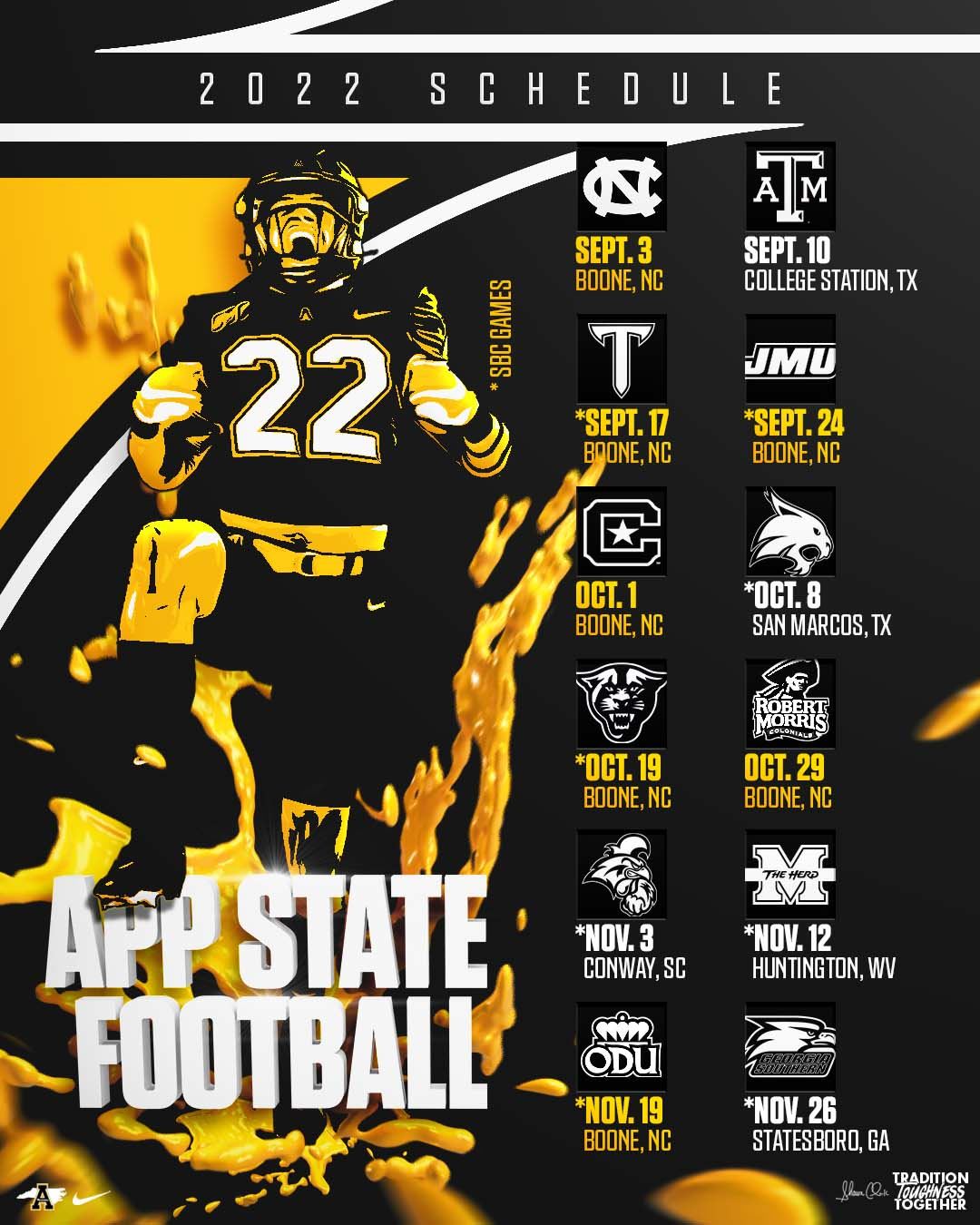 Last Updated on March 1, 2022 10:52 am
BOONE, N.C. — Starting with a season-opening home game against North Carolina as the first of seven games at Kidd Brewer Stadium this fall, and continuing with a run through a new-look Sun Belt Conference, App State Football on Tuesday announced its complete 2022 schedule.
It will be the third full season in charge for head coach Shawn Clark, who directed the Mountaineers to a 10-win regular season and a Sun Belt East Division title in 2021. Last year, two thrilling home wins made ESPN's list of the top 30 college football games played in 2021.
In addition to 2022 nonconference home games against UNC (Saturday, Sept. 3), The Citadel (Saturday, Oct. 1) and Robert Morris (Saturday, Oct. 29), App State will have a nonleague road game at Texas A&M on Saturday, Sept. 10.
The Mountaineers will play an eight-game conference schedule that includes six division matchups, plus cross-division games against Troy (in Boone on Saturday, Sept. 17) and Texas State (away on Saturday, Oct. 8).
The divisional foes coming to Boone are James Madison (Saturday, Sept. 24), Georgia State (Wednesday night, Oct. 19) and Old Dominion (Saturday, Nov. 19, Senior Day). The road games against divisional opponents call for trips to Coastal Carolina (Thursday, Nov. 3), Marshall (nine days later on Saturday, Nov. 12) and Georgia Southern (Saturday, Nov. 26 for the regular-season finale).
James Madison, Old Dominion and Marshall are all entering their debut seasons as Sun Belt members. The late-September matchup with JMU will be the Dukes' first Sun Belt game as an FBS member, and App State will be facing Marshall in a conference game for the first time since they were Southern Conference rivals in 1996.
North Carolina will be playing App State in Boone for the first time, joining Miami and Wake Forest on the list of ACC programs to appear in Kidd Brewer Stadium. The first all-time matchup between the Mountaineers and Texas A&M will increase App State's total to seven SEC programs with at least one head-to-head meeting.
Season ticket renewals for one of the most anticipated home football seasons in App State history are available for purchase.
Yosef Club members in good standing can renew their season tickets online. The 2022 season ticket renewal and parking request deadline is April 29.
New 2022 football season tickets may be purchased online at this time, and assignment of those seats will be mid-summer.
Ticket Prices

Season tickets for the seven-game 2022 slate at Kidd Brewer Stadium cost $250 for anyone 3 years and older and $225 for current App State faculty/staff (limit of 2). Season tickets are $400 in the Gold section and the East VIP section. Three-year commitments are required to lock in the current pricing. A payment plan is available for season tickets (payments can be made from March-May 2022).
 
A Yosef Club contribution will be required for all season ticket sections, now including sections 108, 114, 217 and 218. Donation levels for all other sections remain the same as they were in 2021. For more details, visit the MAF's Renewals and Beyond webpage.

Premium Seating Tickets
 
There are no changes to premium seating pricing from last year unless otherwise previously indicated. Contact a member of the Mountaineers Athletic Fund staff at 828-262-3108 or mountaineersathleticfund@appstate.edu for more information.

How to Purchase
 
Current season ticket holders can renew season tickets online.
 
Email any questions to athletictickets@appstate.edu or call 828-262-7733 (the Athletic Ticket Office number has changed due to communication upgrades).
 
Those interested in joining the Yosef Club can do so online here or by phone at 828-262-3108.
2022 App State Football Schedule
Sat., Sept. 3 vs. North Carolina
Sat., Sept. 10 at Texas A&M
Sat., Sept. 17 vs. Troy*
Sat., Sept. 24 vs. James Madison*
Sat., Oct. 1 vs. The Citadel
Sat., Oct. 8 at Texas State*
Wed., Oct. 19 vs. Georgia State*
Sat., Oct. 29 vs. Robert Morris
Thurs., Nov. 3 at Coastal Carolina*
Sat., Nov. 12 at Marshall*
Sat., Nov. 19 vs. Old Dominion* (Senior Day)
Sat., Nov. 26 at Georgia Southern*
* Sun Belt game
Home game in bold