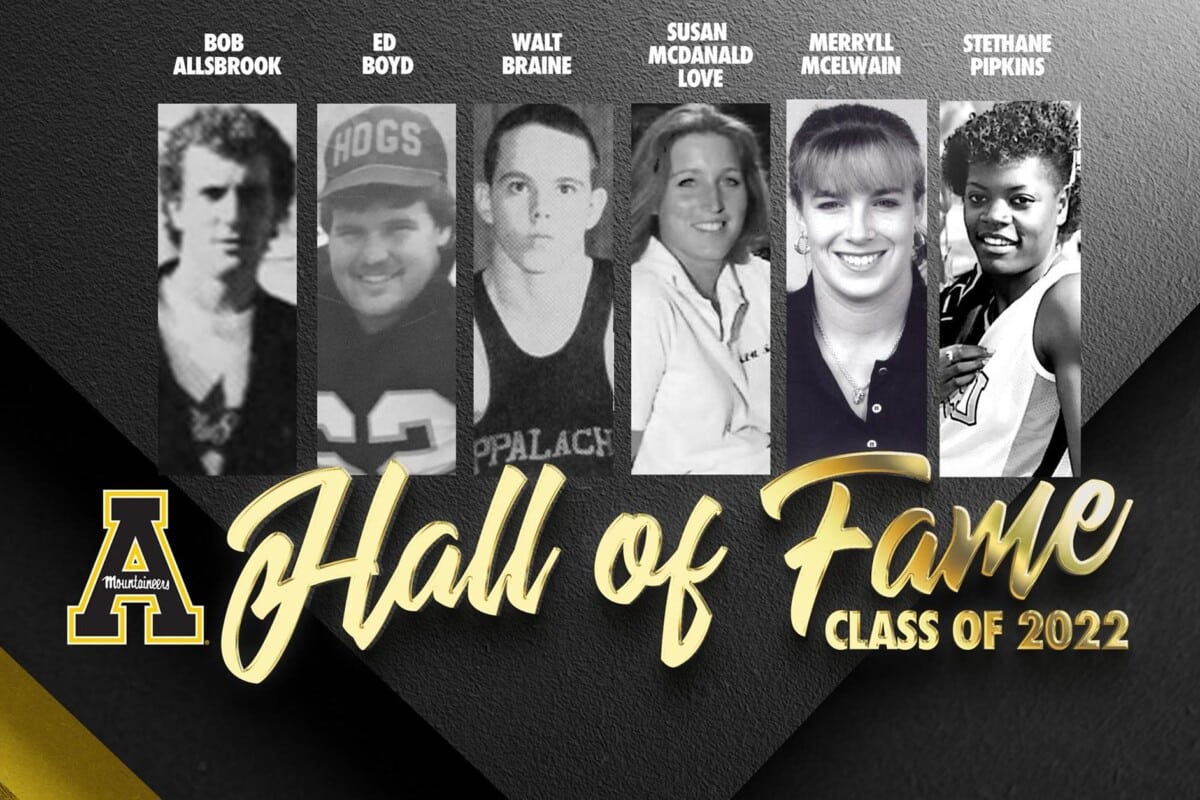 Last Updated on July 29, 2022 12:31 pm
BOONE, N.C. — App State's Former Athletes Association is excited to announce the 2022 App State Athletics Hall of Fame class.

In alphabetical order, the 2022 inductees are Bob Allsbrook (men's tennis, 1979-83), Ed Boyd (football, 1981-84), Walt Braine (wrestling, 1965-69), Susan McDanald Love (women's tennis, 1979-83), Merryll McElwain (women's golf, 1993-97) and Stethane Pipkins (women's track and field, 1987-90).

FAA president and App State alum Ken Davis, a manager for the 1979 men's basketball team that made the NCAA Tournament and later a graduate assistant coach for the Mountaineers, is receiving the Special Service Award.

This is the 47th class in the history of the App State Athletics Hall of Fame. The group will be inducted in a morning ceremony in the Grandview Ballroom of the north end zone facility on Saturday, Sept. 17, before the Mountaineers' home football game against Troy.
For tickets to the Hall of Fame breakfast and ceremony, which starts at 8:30 a.m. with a cost of $30, you can register online by clicking HERE or contact Chase Cross at crossce2@appstate.edu or call 828-262-6495.

2022 APP STATE ATHLETICS HALL OF FAME INDUCTEES
Bob Allsbrook (Men's Tennis — 1979-83)
Four-year lettermen who played No. 1 singles and No. 1 doubles for the Mountaineers … As a sophomore, teamed with Butch Dunn to win the Southern Conference's No. 3 doubles championship thanks to a 7-5, 1-6, 6-2 victory over Chattanooga's Billy Dean and Stewart Lawwill … As a junior for a 22-6 team that tied a program record for wins, had a 20-7 record at No. 2 singles and a 15-9 record in doubles … Won 13 matches at No. 1 singles and 12 matches playing No. 1 doubles with Dunn as a senior, when he pulled out three-set singles wins against Davidson and Western Carolina … Played for coach Bob Light … Native of Rocky Mount, N.C., went on to play professionally and earn ATP Tour singles and doubles rankings … State champion high school coach in Spartanburg was inducted into the South Carolina Tennis Hall of Fame in 2013.

Ed Boyd (Football, 1981-84)
Boyd started for three years as a left guard on App State's offensive line and received All-America recognition in each of his final two seasons … Playing at App State from 1981-84, was an Associated Press Third-Team All-American as a senior after being an honorable mention All-American as a junior … Made the All-Southern Conference first team in 1983 and 1984 … Played for coaches Mike Working, Mack Brown and Sparky Woods.

Walt Braine (Wrestling, 1965-69)
Braine earned NAIA All-America honors in 1968 by placing sixth nationally at 160 pounds … Wrestled at App State from 1965-69, competing for coach Steve Gabriel … Responsible for one of 21 All-America honors by an App State wrestler … App State teams went a combined 37-7 during his four years with an unbeaten 9-0 season in 1965-66 … Vital in the development and growth of the App State Wrestling camps, as he's worked as an instructor and assistant director for 30-plus years … The native of Grove City, Pa. and resident of Smith Mountain Lake in Virginia served as a wrestling coach in Virginia from 1970-89 and was a longtime VHSL and college official.

Susan McDanald Love (Women's Tennis, 1979-83)
McDanald Love excelled as a women's tennis player at App State from 1979-83, playing for coaches Dr. Donna Breitenstein, Dr. Jimmy Smith and Louis Meehan … Played No. 1 singles from 1981-83 while being named team MVP and captain in her final two years … Named to the Southern Conference's 25th anniversary team in 2008 … Went 17-5 in singles as an App State senior … Member of the North Carolina Tennis Hall of Fame is a four-time USTA national champion with an NCTA Female Player of the Year award in 2006 … Won 46 North Carolina state championships titles and represented the United States in the 2007 World Cup ITF Team Championships.

Merryll McElwain (Women's Golf, 1993-97)
McElwain played golf at App State from 1994-96 before graduating cum laude in 1997 with an English degree … A first-team All-Southern Conference performer in each of her three competitive seasons, making her the only App State women's golfer to three-peat … Led Mountaineers to three straight second-place finishes in the SoCon behind national powerhouse Furman … Member of the Southern Conference's 100th Anniversary Team … Three-time team MVP while playing for coach Bill Dicus … Four-year Dean's List member and two-time SoCon Academic Honor Roll, including 1997, when she was sidelined by an injury … The first female golfer to be president of the board at Braemer Country Club in California, she's enjoyed a successful business career in the Los Angeles area while serving on the board of many organizations that help underserved and low-income communities.

Stethane Pipkins (Women's Track & Field, 1987-90)
Pipkins was a women's track & field standout at App State from 1987-90 with five Southern Conference titles in her career and All-America honors in 1989 … SoCon champion in the 200 meters (1990 indoor and outdoor), triple jump (1989 indoor), 100 meters (1990 outdoor) and mile relay (1990 indoor) … Part of school-record relay teams in the outdoor 4×100 and 4×200 … That record-setting 4×100 team in 1989 placed seventh at the NCAA Championships to bring All-America recognition to Pipkins, Lamonda Miller, Lynett Farner and Lynette Gardin.