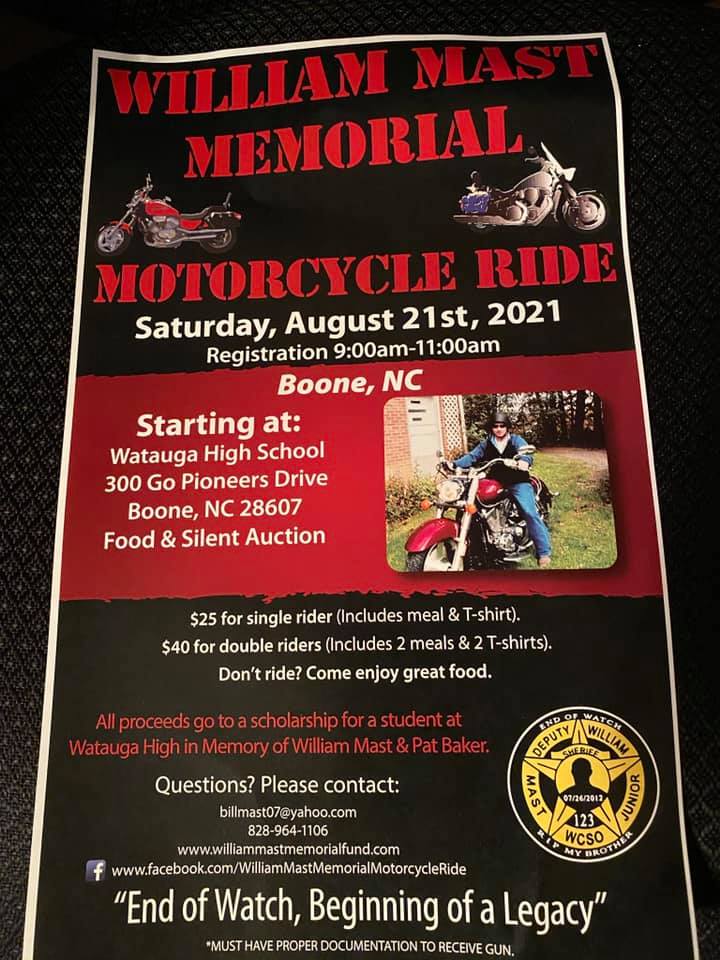 Last Updated on July 26, 2021 6:27 pm
The annual William Mast Jr. Memorial Motorcycle Ride will resume this year, after not taking place in 2020 due to COVID-19 restrictions.
The 2021 ride takes place on Saturday, August 21, with registration from 9:00 am to 11:00 am at Watauga High School, 300 Go Pioneers Drive in Boone.
Watauga County Deputy William Mast Jr. was shot and killed while responding to a call in the early morning hours of July 26, 2012.
Organizers of the ride have also announced they will be adding two more fallen deputies to the scholarship list this year, Sgt. Chris Ward and K-9 Deputy Logan Fox. "We are so honored to do this for our community and also, to grant 2 extra scholarships to deserving seniors each year." the organizers stated. Both Watauga County deputies were killed during a welfare check on April 28 of this year.
"We hope to see you at our Memorial ride this year. There will be lots of fellowship, fun, and good food catered by Scarlet Hen. Thank you for all the communities support and love. We could not do this each year without your help and all our generous sponsors. We love you." organizers also stated.
The ride route will take a different route than in past rides, in part to honor Sgt. Ward and K-9 Deputy Fox and the communities where they lived and served.
This year's route is:
Leave Watauga High School and turn left.
Go to the red light, turn left onto 421 N, and then onto the 105 extension.
Take 105 bypass and then down 421/Boone Mountain to 194 in Vilas and then over Mast Gap.
Tuen left on 321 to Bethel Road.
Turn right on Bethel Road.
Go to Beaver Dam Road and take a left.
Go to the end of the road and get on 421 South back to Boone.
The ride will go through downtown Boone on the way back to Watauga High School.

---
The cost is:
$25 for a single rider includes meal and a T-shirt.
$40 for double riders includes 2 meals and 2 T-shirts.
Even if you don't ride you are invited to come out to enjoy the fellowship and food.
All proceeds go to a scholarship at Watauga High School in memory of William Mast Jr., Pat Baker, Sgt. Chris Ward and K-9 Deputy Logan Fox.
For more information contact the organizers on their Facebook page.