Last Updated on June 12, 2018 3:58 pm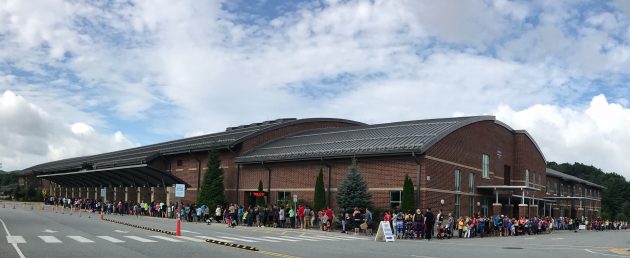 BOONE, NC – June 11, 2018: Planning for the sixth annual Back 2 School Festival is already in full swing. Last year close to 1,100 students received backpacks, school supplies, shoes, haircuts and lunch during the half-day festival.
"We are fortunate in Watauga County to have the support of such compassionate and giving community members. Thanks to donations from local businesses, churches, community groups and individuals, more than 1,000 students and families who would otherwise struggle to afford school supplies can start their year confident and well-equipped," stated Dr. Scott Elliot, Watauga County Schools Superintendent.
School social workers, understanding the impact of the festival, are also able to access supplies from the Back 2 School Festival storage unit throughout the school year, helping recently enrolled students or those experiencing a need during the year.
"That students are able to start school prepared and ready to go, with all the materials needed to be successful, is a huge boost not only to their academic performance but their confidence and self-esteem as well," said Hardin Park School Social Worker Denise Presnell. "I wish donors could see the kids walking in with huge smiles on their faces, their backpacks on, full of necessary supplies, eager and ready to start the new school year."
According to the 2018 NC Data Card from children's advocacy organization NC Child, 46 percent of Watauga County children live in poor or low-income households. Having just over 4,800 school age children in the county means that around 2,200 school children need assistance with school readiness.
"These numbers tell us that we are only half-way to meeting the demand," states Back 2 School Festival Coordinator Kendra Sink. "We need to raise between $35,000 and $40,000 in order to help all of the families that need assistance."
Businesses and civic groups can sponsor the festival at various levels, which range between $250 and $5000. For a $100 contribution, individuals can have their name listed on the Donor Board at the festival.
To date, the festival has received a grant from the Watauga County Community Foundation and a major contribution from Mast General Store. Presenting sponsors so far include 4 Forty Four Builders, Watauga County Commissioner Larry Turnbow and Snow Masonic Lodge #363.
The Back 2 School Festival, started in 2013 as a collaborative effort between The Children's Council, Western Youth Network, Hospitality House, Quiet Givers and others seeks to improve school readiness efforts in order to have a greater impact on the community. Its objective is to serve any family struggling to afford the high costs of back-to-school shopping in a relaxed, distinguished and respectful environment. Their goal for the festival is for all kids to start school feeling confident and prepared for the year ahead.
The 2018 Back 2 School Festival will take place Saturday, August 4,at Watauga County High School from 10:00 a.m. to 2:00 p.m.
Contributions may be made online at back2schoolfestival.org/donate/ or checks made payable to The Children's Council, with "B2SF18" in the memo line, may be mailed to Back 2 School Festival, P.O. Box 102, Boone N.C. 28607.
For sponsorship information and to learn more about the Back 2 School Festival, please visit back2schoolfestival.org