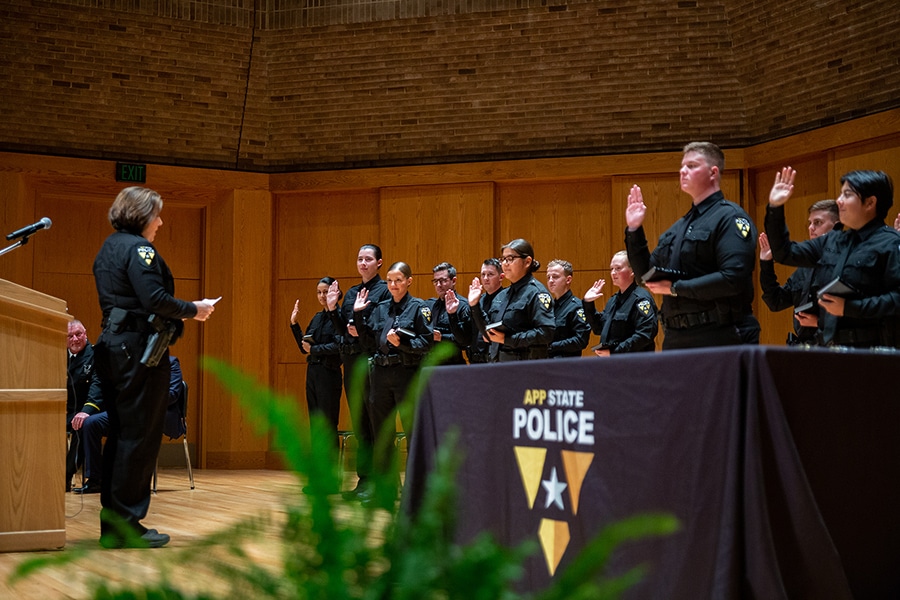 Last Updated on October 26, 2022 10:08 am
BOONE, N.C. — Sixteen students graduated from Appalachian State University's Appalachian Police Academy — a component of the Appalachian Police Officer Development Program (APDP) — on Aug. 27 in Rosen Concert Hall, representing the program's fifth class.
In total, 96 recruits have graduated from the academy since 2018, completing North Carolina's Basic Law Enforcement Training (BLET). A new class of APDP cadets has entered the program for the 2022–23 academic year with the potential to become eligible recruits for the sixth class of the Appalachian Police Academy in summer 2023.
"I congratulate our newest graduates of the App State Police Academy," said App State Chancellor Sheri Everts. "App State's innovative program is leading the way in strengthening policing for communities across North Carolina. Graduates from this program bring the benefit of hands-on experience as police officers as well as higher education degrees, allowing them to help advance the profession across our state and region."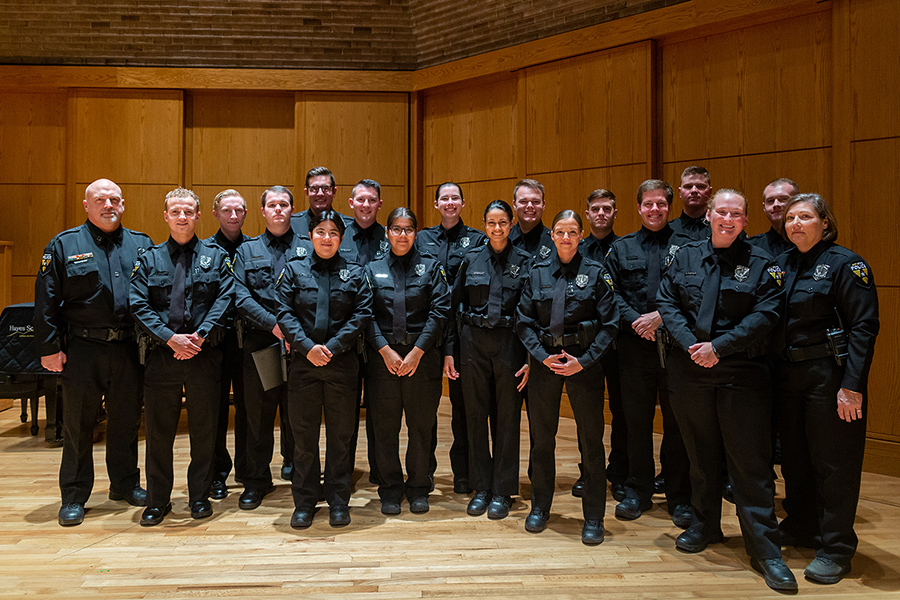 This year's Appalachian Police Academy graduation ceremony included words from Frederick E. Sellers, the University of North Carolina System's vice president for safety and emergency operations. Sellers congratulated the graduates on their accomplishments in exceeding the state's training standards to become police officers.
Under Chancellor Everts' leadership, Director of Public Safety and Chief of Police Andy Stephenson initiated APDP in 2018 to equip students with the knowledge, skills and training to become police officers — while they simultaneously complete their undergraduate or graduate degrees at App State. App State's program is the only one of its kind in North Carolina and is open to all full-time App State students.
"We have to expand the way we are training and educating police officers if we are going to meet the needs of changing, contemporary communities," Stephenson said. "Institutions of higher education need to be involved in police officer development. We come to college to gain an education, and we gain the most from college when we challenge ourselves to think in new ways and to learn from others who have experiences that are different from our own."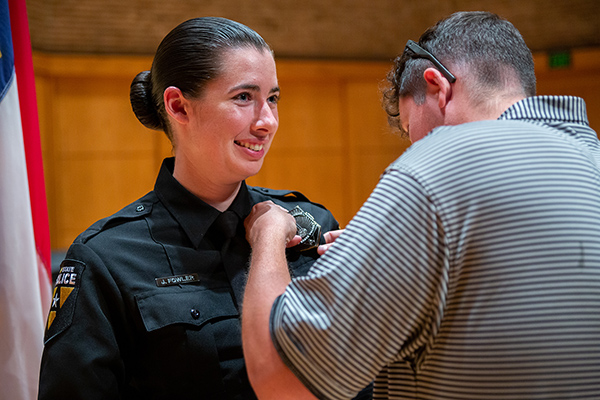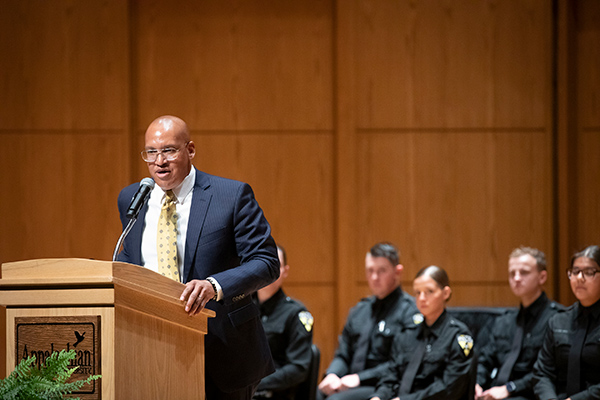 Appalachian Police Academy recruits complete more than 700 training hours, exceeding the BLET standard of 38 blocks of instruction and 670 hours of training. Their training includes:
Implicit bias training, which explores how implicit biases can impact thoughts and behaviors and provides information and skills to help people reduce and manage these biases.
De-escalation training, in which recruits learn techniques and strategies to defuse potentially dangerous situations.
Communication skills training, in which recruits develop the skills they will use to help guide, organize, respond, motivate and better understand the needs of others in the community.
Recruits must also pass the 300-question state exam to become certified police officers in North Carolina before they become sworn, at which time they may begin working part time in the Appalachian State University Police Department (APD). Graduates continue working part time in their APD positions as they complete their degrees at App State.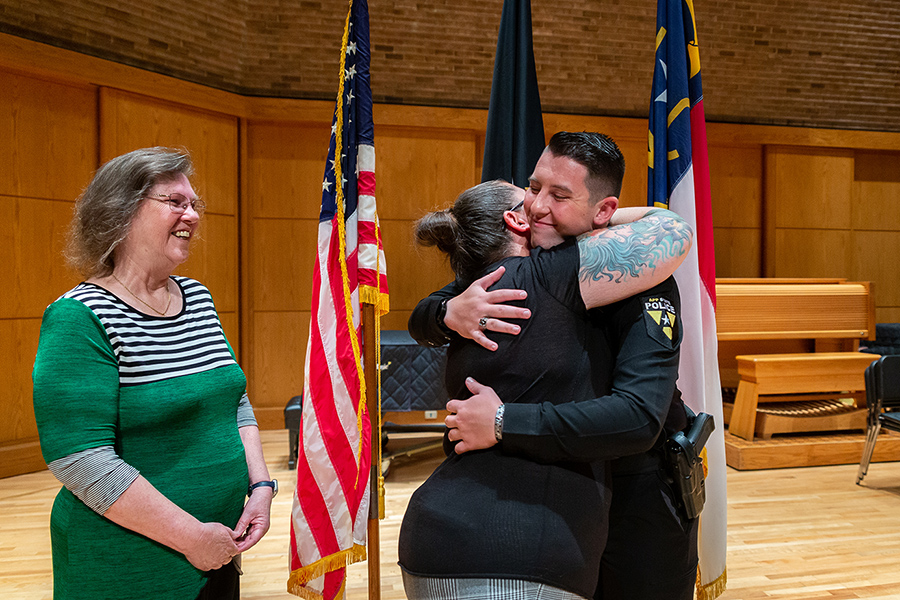 The graduates were also sworn in — an essential, traditional step toward working as a police officer — on the same day as the academy graduation ceremony, which was a first for APDP.
"We were really excited that we could celebrate this class's accomplishments on the same day that they were also formally sworn in," said Capt. K.C. Mitchell, APD's director of police officer development and professional standards. "Both graduation from the academy and the day that you become a sworn police officer are accomplishments that you and your family will always remember. It's unusual for these two milestones to be able to occur on the same day, so this was very special for this class and a very proud moment for everyone."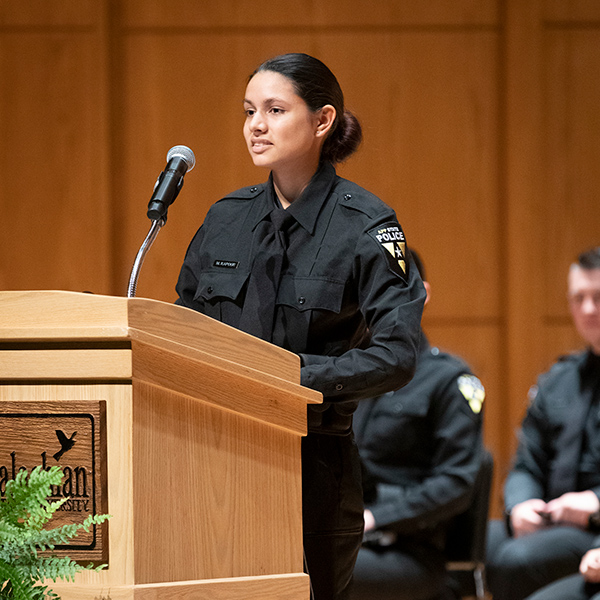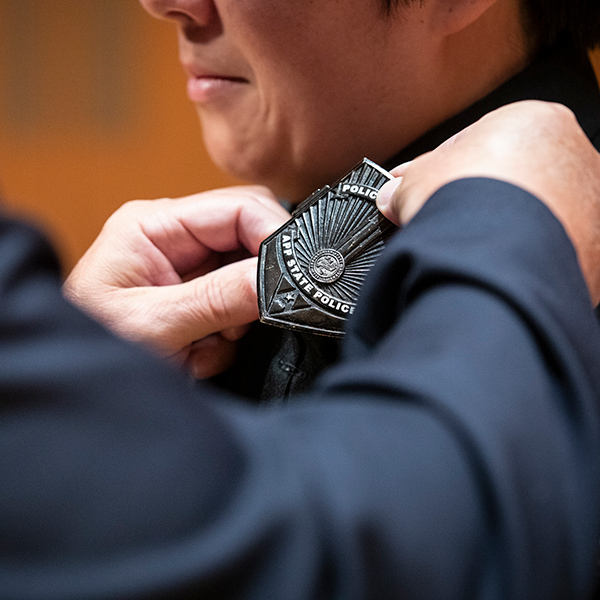 Class speaker Maya Kapoor, a senior English, secondary education major from Huntersville, shared how the Appalachian Police Academy's intense training created bonds between recruits and their instructors.
"I am so proud to be standing here with Class Five," said Kapoor. "This program gave me the opportunity to chase my dreams when I didn't think they were possible.
"We have created a family unit," Kapoor continued. "A group of different people coming together for a cause, to help people. The support, care, devotion and relationships forged are incredible."
APD and Chief Stephenson continue to receive national recognition for the Appalachian Police Officer Development Program. In 2019, the North Carolina Police Executives Association named APD as the Law Enforcement Agency of the Year, primarily for the program. The following year, APD was named a top 25 university police department by Safe Campus: The National Campus Safety Summit. This year, national magazine Campus Safety named Chief Stephenson as a national Director of the Year finalist.