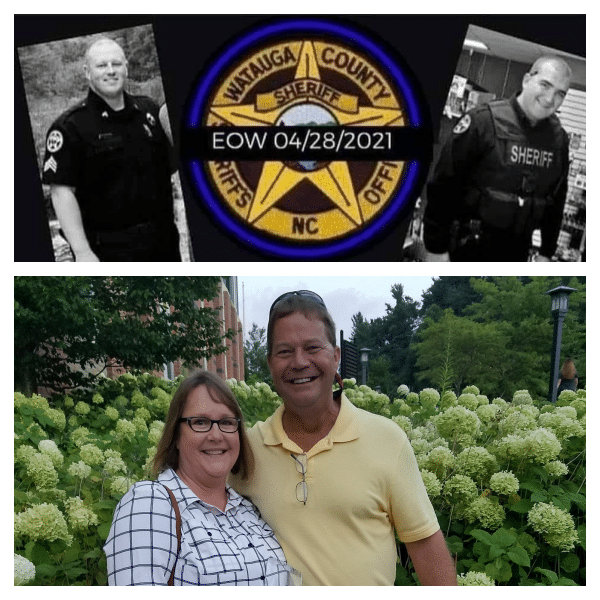 Last Updated on April 27, 2022 7:47 pm
Thursday, April 28, 2022 marks the one year anniversary of the unexpected and tragic deaths of four individuals that left a lasting impact in Watauga County and the High Country.
K-9 Deputy Logan Fox, Sergeant Chris Ward, Michelle Ligon & George Ligon
On April 28, 2021 at 9:44 a.m., Watauga County Sheriff's Office responded to a call for a welfare check at 553 Hardaman Circle, in Boone, when the homeowner's employer called to report the homeowner did not report to work or respond to telephone calls. Deputies entered the residence after discovering all vehicles belonging to the residents were on the property. Upon entering the home, two Watauga County Sheriff's deputies received gunshot wounds from a then unknown individual within the residence.
K-9 Deputy Logan Fox died at the scene while Sgt. Chris Ward died after being flown to Johnson City Medical Center for treatment. Michelle Ligon and George Ligon also died at the scene. The son/stepson of the Ligon's was responsible for the deaths of all four, while also taking his own life.
---
WataugaOnline.com remembers the four fallen and their impact to our community and beyond.
Deputy Logan Fox, age 25, was a two-year veteran of the Watauga County Sheriff's Office. He was a K-9 officer who handled Watauga County Sheriff's Office K-9 "Raven." Prior to working at the Watauga County Sheriff's Office he served as full-time deputy with the Ashe County Sheriff's Office.
Sgt. Chris Ward, age 36, was an eight-year veteran in the field of law enforcement. He began his career at the Beech Mountain Police Department in 2013, later moving on to the Watauga County Sheriff's Office where he was promoted to the rank of Sergeant.
Michelle Ligon worked as Public Relations Director for the Boone Convention & Visitors Bureau, before becoming Director of Public Relations and Social Media at Explore Boone in July 2010. She, along with George, was also known for supporting many local organizations both financially and with in person support.
George Ligon was a long time manager, over 20 years, for the local branch of Terminix pest control company. He, along with Michelle, was also known for supporting many local organizations both financially and with in person support.
---
It's also of note that this year will mark the 10th anniversary of the death of Deputy William Mast Jr. Mast was killed in the line of duty during the early morning hours of July 26, 2012.
WataugaOnline.com reached out to Watauga County Sheriff Len Hagaman for his thoughts surrounding both of these solemn occasions.
"For me personally, to reflect is a painful thing to do and share.", he began. "To put words, thoughts, reflections are very difficult, as those thoughts are mentally, physically, emotionally, and even spiritually, are very draining. These were OUR family and like any loss of family, it hurts.", the Sheriff went on to say.
"We can't, nor should we ever push our remembering away, but again, it hurts to do so. I think we all have genuine feelings and thoughts that are unique and extremely personal and unique to each of us.", he added.
"We continue to have the family of our heroes in these thoughts and prayers too. They are remarkable in that they offer us a part of healing, and I am in hope we can offer them the same comfort and healing."
Sheriff Hagaman also reflected on the nearly 10 year span of the death of Deputy William Mast to the tragic events of April 28th. "One of the most important reflection extends from William Mast (10 years on July 26, 2022) to our most recent loss with Chris Ward and Logan Fox. That daily reflection boils down to the huge responsibility of intentionally sending our men and women into harms way – on July 26, 2012 and again on April 28, 2021; this responsibility was performed with horrible outcomes – yet every day and night our folks continue to respond without hesitation or reservation. They will continue to put themselves into harms way…"
Sheriff Hagaman concluded by saying, "Each and every day, I reflect on these days filled with darkness and pray that we never have to carve heroes names into the black granite ever again."
---
To mark the day of the fallen the Watauga County Commissioners have marked April 28th as a day of remembrance for Deputy Fox and Sgt. Ward. Flags will be flown at half-staff and citizens, businesses, nonprofits, and state and local governments in Watauga County are encouraged to illuminate a blue light. There will also be the observance of the moment to last for 1-minute beginning at 12 noon.