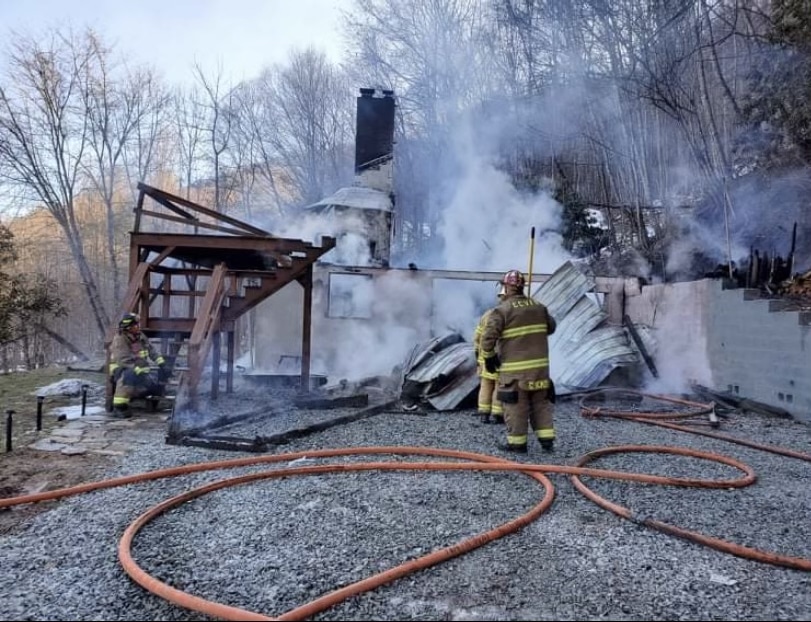 Last Updated on January 21, 2021 10:07 am
A home in the Sugar Grove community is a total loss after a fire on Wednesday afternoon.
The fire, at 306 Bovine Trail, was difficult for fire crews to find initially. A local resident, whose home is at a different location, spotted the fire across the mountains but was unclear on where the fire location might be. Fire crews searched several locations in Sugar Grove before finally being able to locate the blaze off Rominger Road.

Taylor Marsh, Watauga County Fire Marshal, tells WataugaOnline.com that the only thing left standing of the single-story house was the basement. Nobody was at the home at the time. Marsh added it has been used as an Air B&B. The cause is still under investigation.
Crews were dispatched out at 1:15 pm and the last unit cleared the scene just before 5 pm. Cove Creek Fire, Beaver Dam Fire, Watauga Medics, Watauga Rescue, and Fire Marshal office responded to the scene.
Photos: Watauga County Fire Marshal's office