*For more information on the colors check out the Fall Color Report page*
Here's a collection of the fall colors appearing at and around Grandfather Mountain this week. Pictures will be updated daily.
Friday October 9 – Brilliant maple leaves greet a duo of motorcyclists on the Blue Ridge Parkway near Rough Ridge. Motorists can expect heavier traffic than usual on the parkway this weekend, as peak color continues its steady approach in the High Country. Photo by Jim Morton | Grandfather Mountain Stewardship Foundation.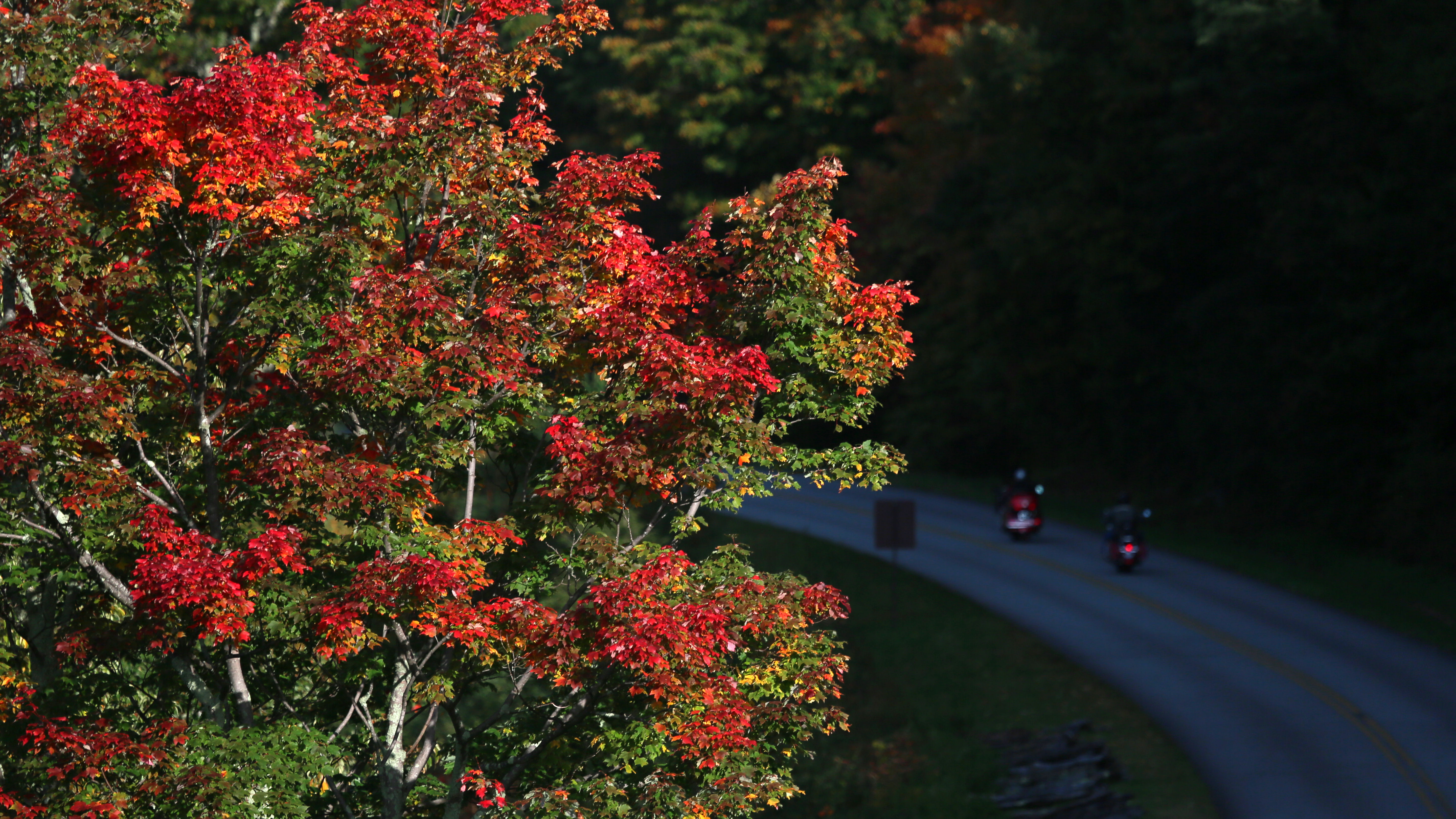 Monday October 12 – An autumn sun rises over the High Country in this photo taken from Grandmother Mountain. Fall color is now well on its way in locations lower than 4,000 feet, with areas in Boone and Blowing Rock offering some spectacular viewing. Photo by Skip Sickler | Grandfather Mountain Stewardship Foundation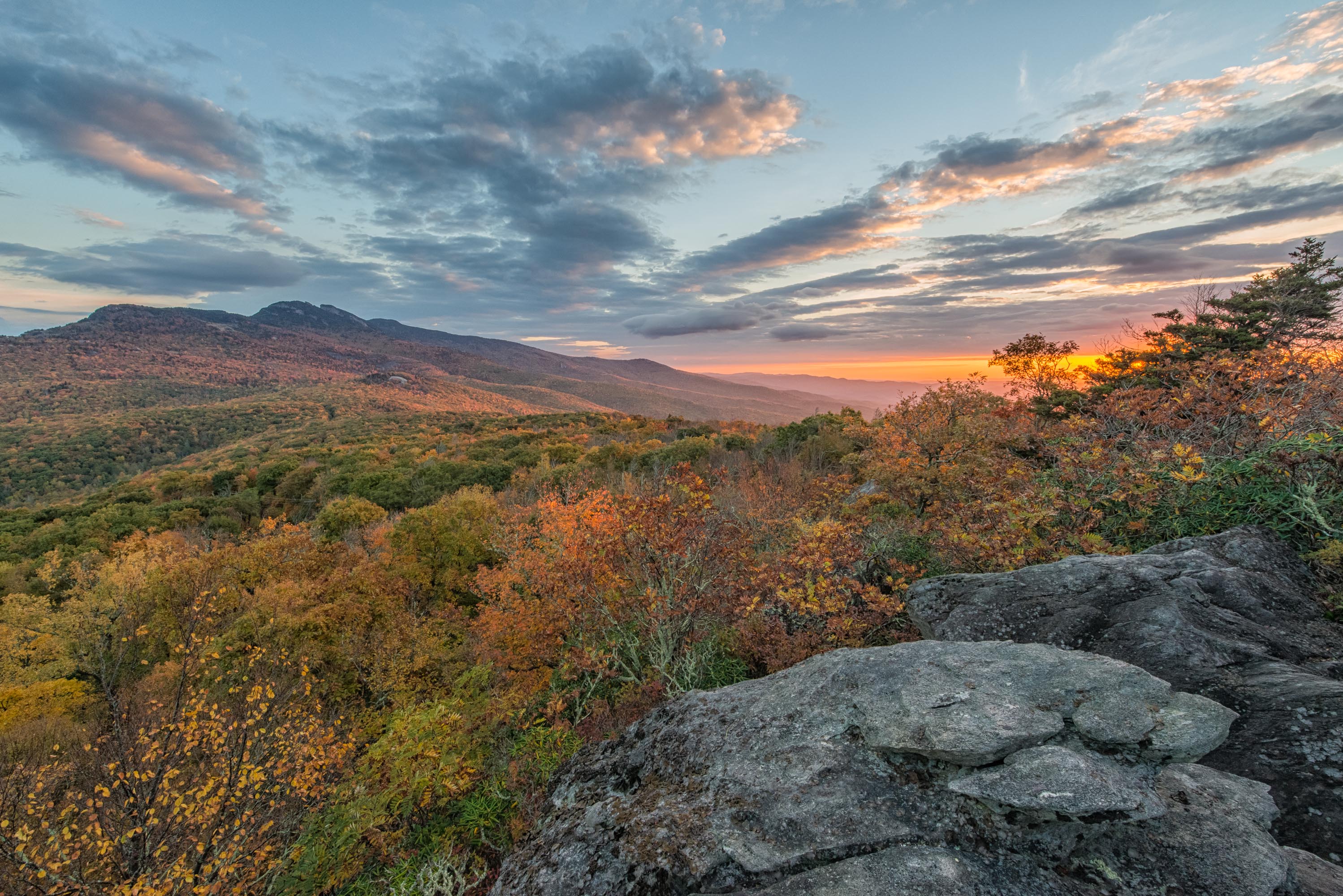 Tuesday October 13 – Grandfather Golf and Country Club sits nestled below the golden slopes of Grandfather Mountain. As leaves in lower elevations approach their peak, the High Country is reaching its own peak of fall activity. The annual Woolly Worm Festival crawls into Banner Elk this weekend, Oct. 17 and 18, while the Valle Country Fair returns to Valle Crucis Saturday, Oct. 17. Photo by Skip Sickler | Grandfather Mountain Stewardship Foundation
Wednesday October 14 –
Golden leaves add a touch of autumn brilliance to the Linville River in Linville. According to Dr. Howie Neufeld, Appalachian State University biology professor and noted 'Fall Color Guy,' this is the peak week for the Blowing Rock-to-Grandfather Mountain section of the Blue Ridge Parkway. Forests below 3,000 feet are still predominantly green, Neufeld said, adding that they will likely turn in the next two weeks. As it stands, the peak color is from about approximately 5,000 feet or so down to about 3,000 feet. Photo by Skip Sickler | Grandfather Mountain Stewardship Foundation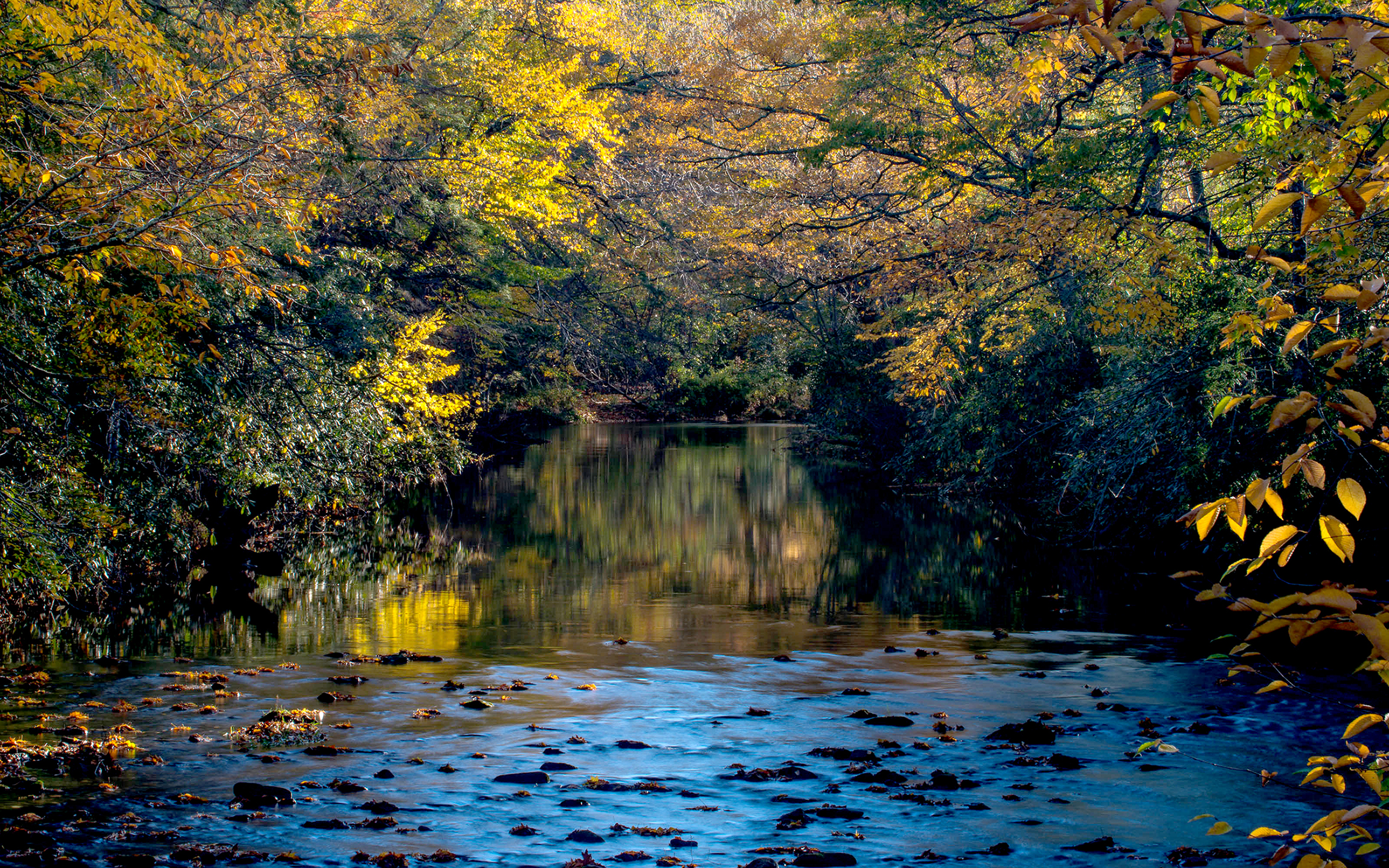 Thursday October 15 – MacRae Meadows sits under the colorful slopes of Grandfather Mountain and a Carolina blue sky. According to Appalachian State University biologist and fall color expert Dr. Howie Neufeld, 'Despite all the bad weather we've had, the trees have held their ground and are now showing us all a magnificent display of color.' Photo: Skip Sickler | Grandfather Mountain Stewardship Foundation