The 13th driest August since 1980 continued a trend of a much drier 2014 than 2013.
For the month officially Boone only received 3.94 inches of rain, as shown in the graphic below from the Southeast Climate Center.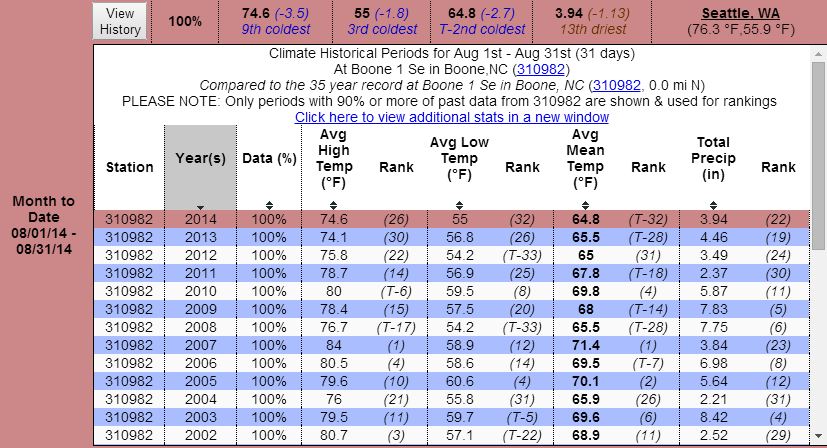 For the region Jefferson recorded 3.79, while Banner Elk recorded 2.37. *Graphic: Southeast Climate Center*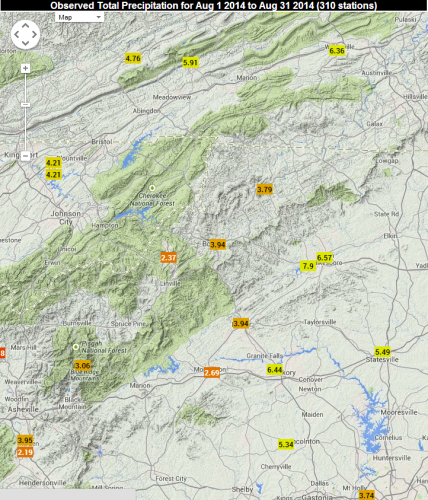 Graphic below shows that total observed rainfall in the state for the month.
2014 continues to trail the record precipitation amounts of 2013. Through Aug 31 a difference of 35.14 inches between the two years during that time period.
For the month from the Watauga Medical Center reporting station:
Highest temperature – 82.22 Saturday Aug 23
Lowest temperature – 47.12 Wednesday Aug 27
Peak Wind Gusts – 31 mph at 4:35pm Monday Aug 18
Highest Rain Amounts – .54 Friday Aug 8
Other items of note:
Greatest one temperature swing Wednesday Aug 27 – from 47.12 to 80.42 (difference of 32.88 degrees).
Number of days with highs in the 60s – 5, 70s – 20, 80s – 6 .
*In keeping track of weather records (temperatures, rainfall, snowfall, wind) it's important to note that the records for Boone relies on three different sources. Boone COOP station 310977 from 1929-1980, Boone 1Se 310982 from June 1980-present and Watauga Medical Center reporting station KTNB.*
Rainfall for the month of August